Is it safe to say 2020 was an odd year? When we did our retrospective on 2019, we had no idea what was in store for us in 2020.
Needless to say, all bets were off on new releases and production volumes, but we are proud of what we accomplished this past year.
Beyond dealing with the ups and downs of COVID-19, temporary closures, and pandemic protocols, we also secured and planned the move to our soon-to-be home at the Braniff Centre this year.
Unfortunately, the stars did not align perfectly for our move so we had to leave our Lakewood location in November. We halted all brewing operations in preparation for the move in October of 2020.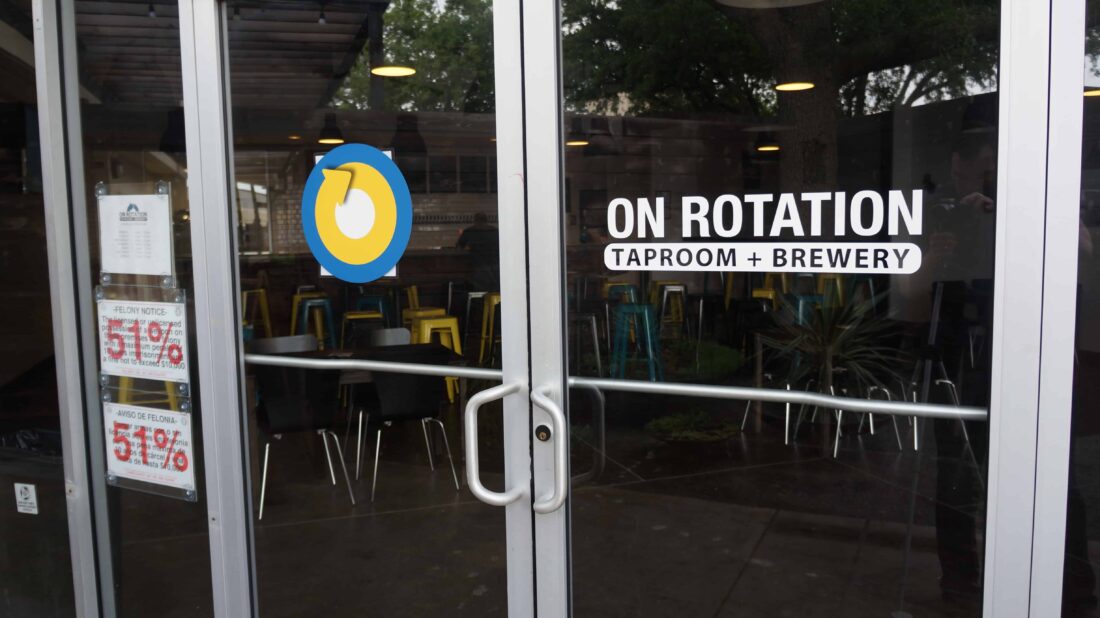 We expect to move into the Braniff Centre later this year and pick up right where we left off, but the hiatus took two months of production out of our 2020 numbers.
All that said, in 2020, On Rotation released 36 new beers.
And weren't they some tasty ones?
A good chunk of our 2020 new releases were part of our virtual anniversary celebration in March, which we thoroughly enjoyed even though we all had to experience it in our own homes. (Thank you to those of you who did post photos and videos online to let us know how you were enjoying the beers.)
Much of the year was spent brewing and restocking your favorites so we could have them available in the taproom (when we were allowed to be open) or for you to pick up in crowlers or growlers throughout the year.
We were lucky enough to add an Oktober can seamer late in the year, which allowed us to package 16oz cans and four packs of our brews in addition to the crowlers and growlers. Look for more of those in 2021!
2020 By the Numbers
Let's take a closer look at our new releases in 2020.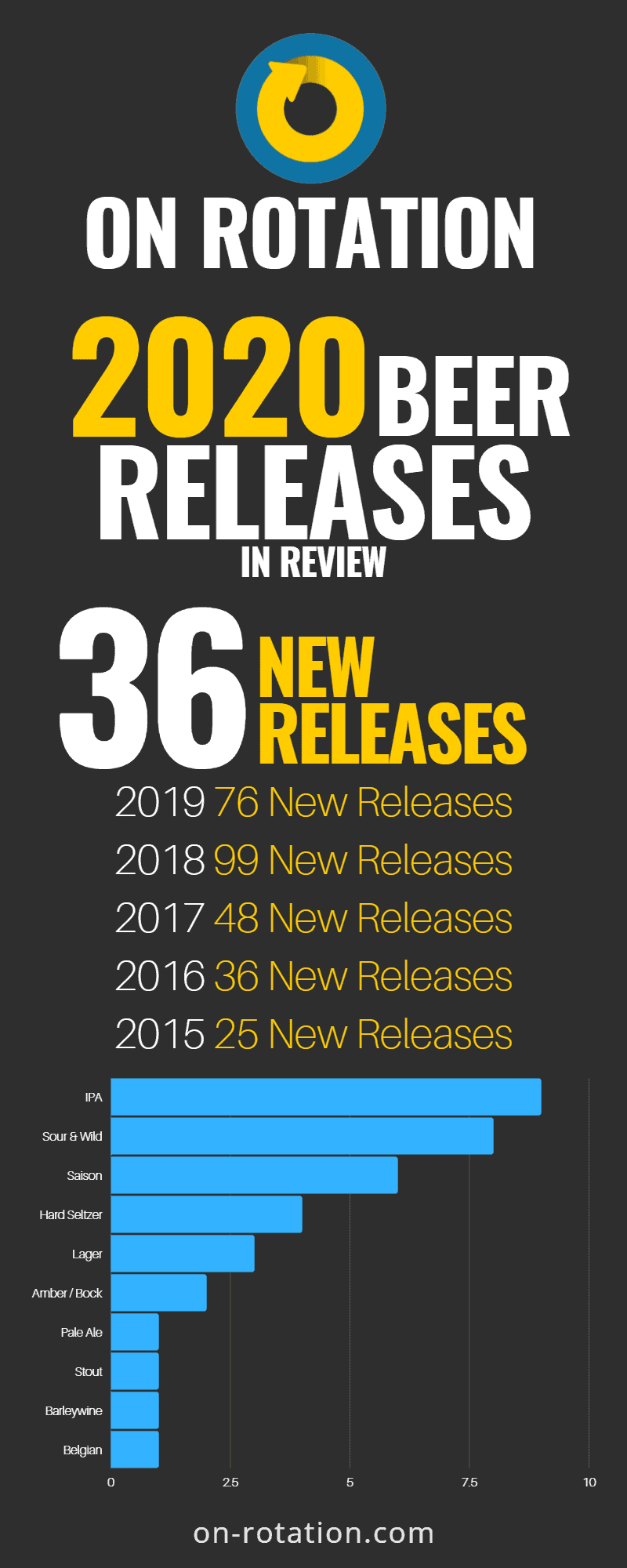 Once again in 2020, we released more IPAs than any other style – nine in 2020. Rounding out the top three styles, we released eight sour or wild beers and six saisons.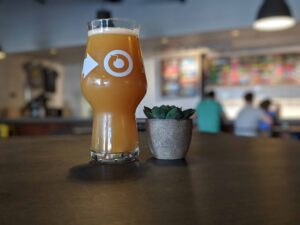 New to the list, we put out four hard seltzers in 2020, which we might play with more in 2021. You all did seem to dig them.
Included in these numbers are the first two collaborations in On Rotation's existence – Spectacular Collision, a hazy rye IPA brewed in collaboration with Celestial Beerworks, and Collaboration Innoculation, a holiday fruited sour ale brewed in collaboration with Craft & Growler. We had a lot of fun brewing outside of our little nanobrewery and expect to do more of that soon!
Our 36 new releases in 2020 bring our grand total of new releases to date to 320. If we averaged that out over six years, it would be approximately 53 new releases a year, which ain't too shabby.
Thank You
Once again, we have to thank you all for drinking the beers as fast as we can brew them. In 2020, most of you enjoyed them in crowler form, but you still ordered online, called in, and picked up as much beer as we could put out.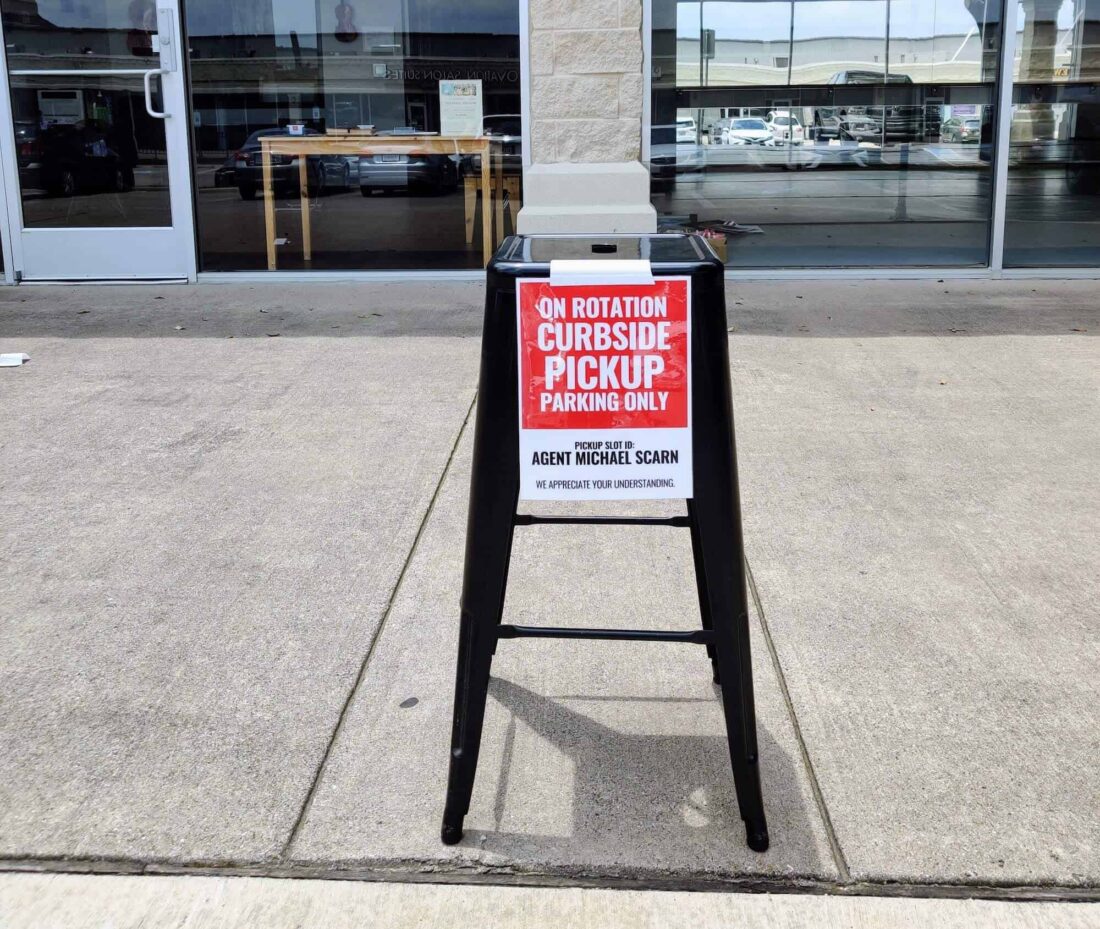 Thank you for continuing to support our dream. We have big things ahead in 2021 and hope we're able to resume brewing operations as soon as possible in our new home at the Braniff Centre with a little bit more brewing capacity.