And we thought 2020 was an interesting year. 2021 proved to be its own sort of animal. We started the year in the midst of construction on our new location while still dealing with COVID-19 and supply chain issues caused by the pandemic.
Like our fellow Texans, we endured the great freeze of February 2021, which knocked out power across much of the state and burst water pipes across Dallas.
Our buildout wasn't severely damaged, but the repairs needed across the Dallas-Fort Worth Metroplex delayed our construction at least a month.
We pushed onward and proudly opened our doors at the Braniff Centre in June.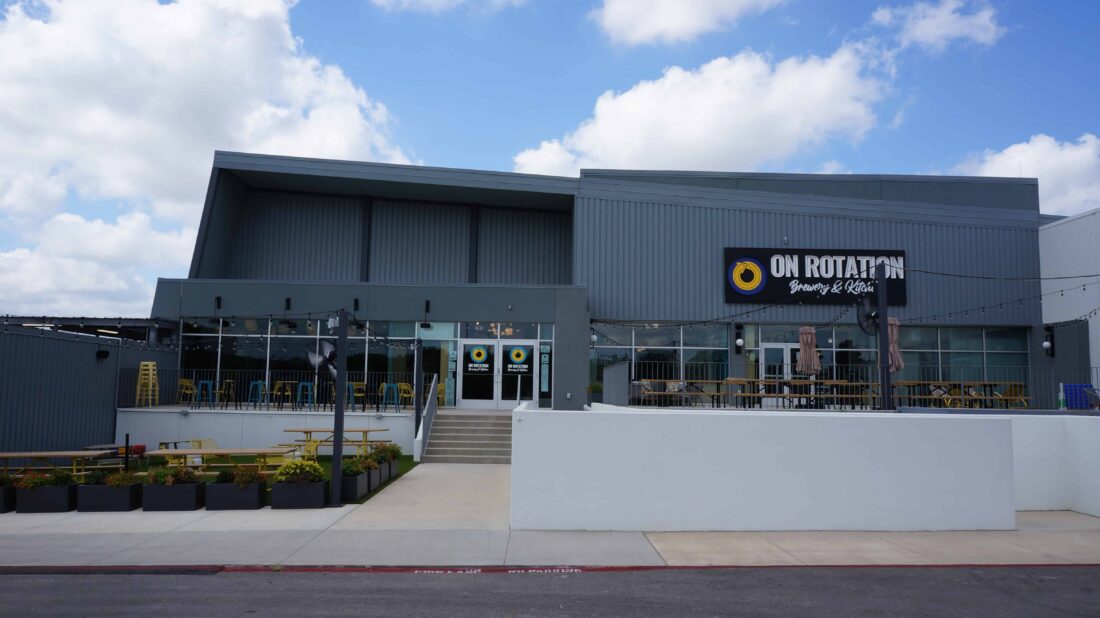 On Rotation Brewery & Kitchen debuted our food menu with a delicious focus on gluten-friendly fried chicken.
And, with our new kitchen, On Rotation officially become a true brewpub in every sense of the word.
Near the end of the year, we were ecstatic to be named the Best Craft Beer Bar, Best Kid-Friendly Restaurant, Best New Restaurant, Best Restaurant View, and one of the Best Breweries in DFW by you in The Dallas Morning News' Best in DFW Awards.
We got to brewing right away and spent most of the year bringing back all the old favorites – Jalapeño Saison, Café Au Lait, Flocculation of Seagulls, Czech 1-2 1-2, Pilsner with No Name, MP3 Mango Peach Tripel, and more – so our ability to brew new releases, even with our doubled fermentation capacity, was still a little limited as we restocked the taps.
We also brewed more of the favorites to put our new canning line to good use. A step up from the Oktober can seamer, our Wild Goose Gosling canning line will allow us to package far more quickly and efficiently.
Expect to see even more 16oz four packs in our storefront fridges as we ramp up our packaging program in 2022.
Brewing from June to December this past year, we released 20 brand new brews in 2021.
2021 By the Numbers
Let's dive into our 2021 new releases.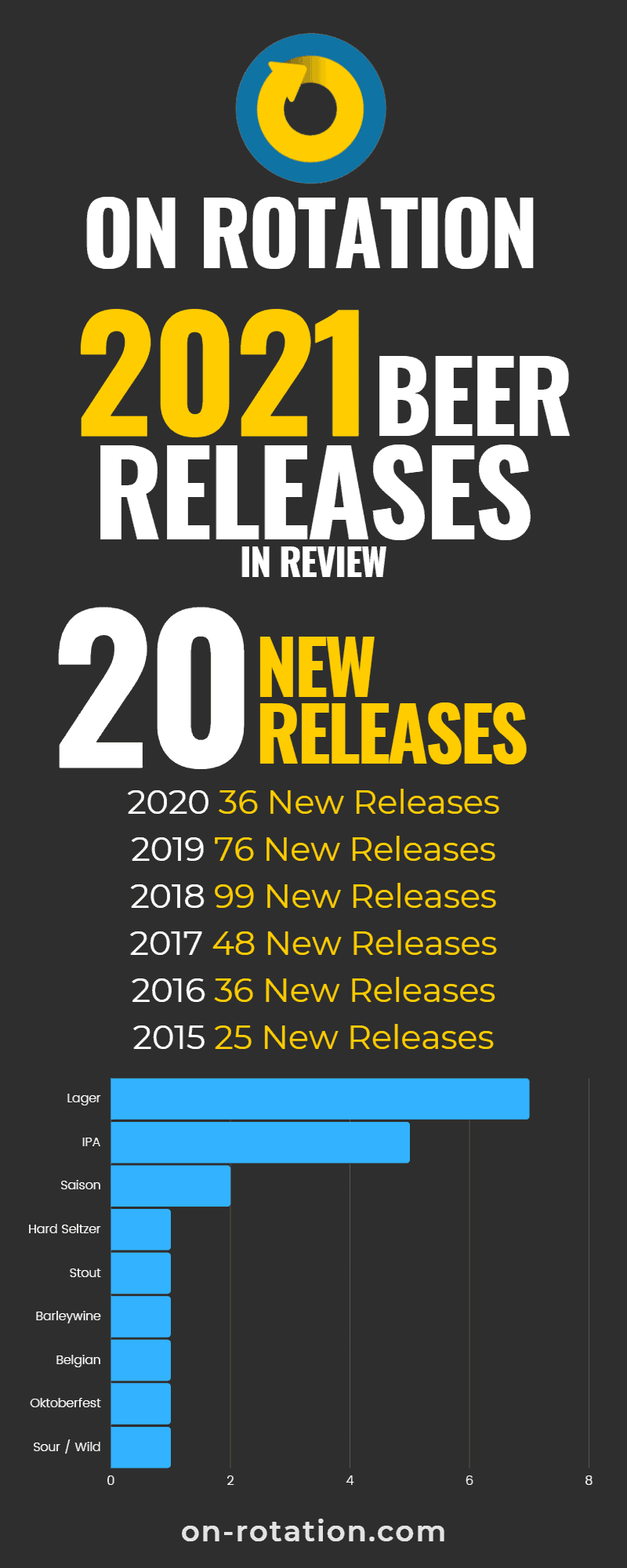 For the first time in 2021, our most popular style among the new releases was Lagers. We released seven lagers and pilsners in 2021, which was made possible by the four new tanks we acquired in the move to the Braniff Centre to expand our brewery and allow for longer fermentation and lagering timelines.
We found that many of you enjoyed the crispies as much as we did so we expect to keep lagers as a large part of our brewing program and releases moving forward. We'd previously avoided doing too many lagers due to our limited fermentation space.
Five of the new releases were IPAs, two being volumes of our Flocculation of Seagulls hazy IPA series. And two saisons were new additions in 2022, to round out the top three styles we brewed.
We produced just one hard seltzer in 2022, but we adapted our seltzer exploration to use our base hard seltzer, Metafizzics, in our seltzer cocktails that we mix live on-site upon your order.
We, notably, released our first Oktoberfest brew in 2021, which should make a return in 2022.
Our new release count doesn't tell the whole story of 2021, of course, given we were reviving many of our long-time "flagships" much of the year. But each of those 20 beers holds a special place in our hearts. And many will be seeing the taps again in future years!
With 20 new releases in 2021, On Rotation's total new release count is now at 340 unique brews. Averaged out over our seven years of brewing, that would be an average of about 49 new releases per year.
Thank You
In just half of a year in 2021, we brewed our hearts out, and we look forward to pushing the limits of our increased brewing capacity in 2022. As always, we owe our brewing opportunities to you.
Our goal in 2022 is to continue to increase production and explore the depth of our recipe book. We think you'll like the tap wall we create for you over the next 12 months.
Thank you for enjoying every drop of what we're crafting. 2022 should be our best year yet, and we cannot be more excited to share it with you.