We went a little bonkers in 2018 releasing 99 brand new brews. Our batch sizing certainly helped us hit those numbers as we used our pilot system (15 gallons) in tandem with our 3BBL brewhouse all year long.
Going into 2019, we set our sights on brewing more volume, in addition to new recipes, and brewing the favorites on the tap list often enough to keep them around all year long.
Did we hit the mark?
We released 76 new releases in 2019, and, for the majority of the year, we had more than 15 of our 40 taps stocked with our own brews.
Back in 2016, it was the norm for us to have just four of five of our own brews on tap at any given time, but we've stepped up in our brewing schedule and fermentation capacity since then.
In terms of volume, we exceeded our expectations by brewing 82 barrels (approximately 2,542 gallons) of beer in 2019 – 20 barrels more than we brewed in 2018 and more than five times our output in our first year of operations (2015).
2019 By the Numbers
Let's take a closer look at the new brews we released in 2019.
The infographic below breaks down our release numbers and the styles we brewed this past year.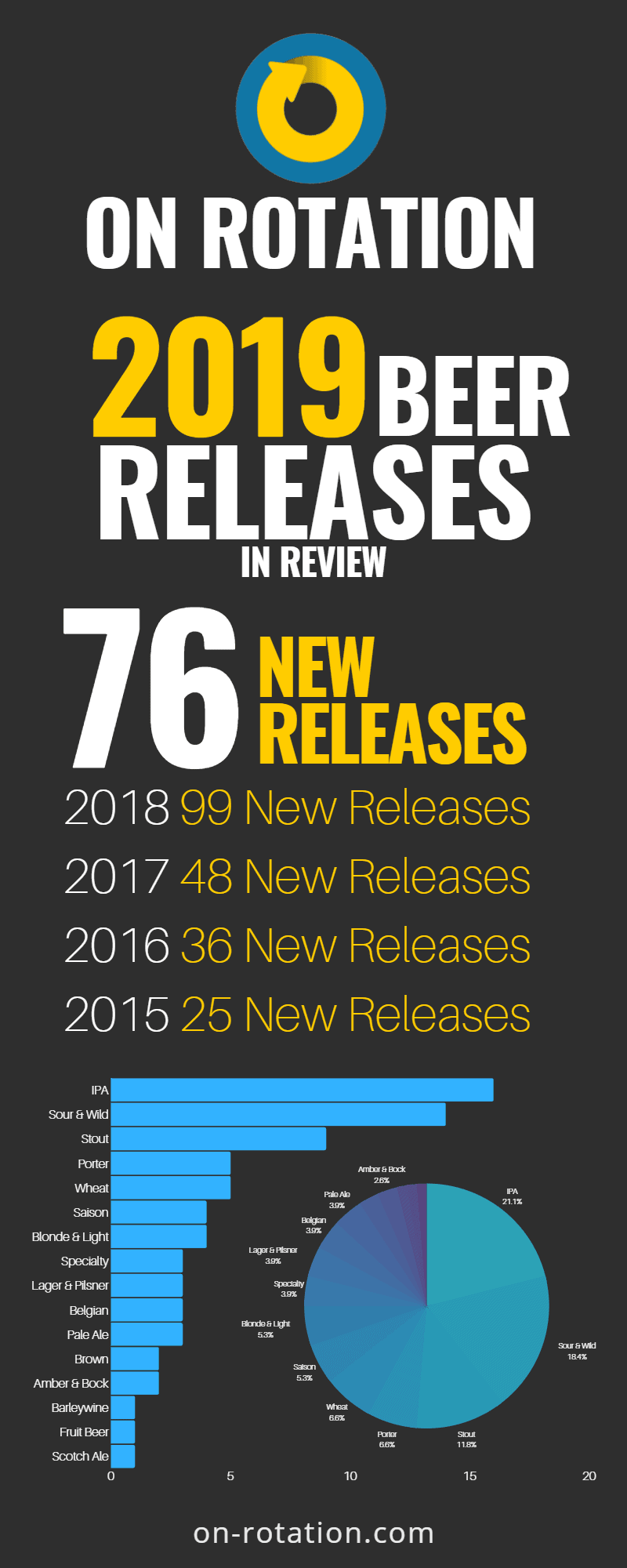 Of our new releases, IPA was the most common style last year. We dropped 16 new IPAs in 2019. The second most popular category was sours and wild beers, of which we released 14. And we put out nine new stouts throughout the year.
To date, On Rotation has released 284 unique brews in 5 years. That's an average of approximately 56 new releases per year, though we've done the majority of that work in the past two years with increased fermentation space.
Thank You
As we look back at 2019, we just want to say thank you for all your support. We couldn't release 76 new brews in a year if you weren't drinking them.
So thank you for helping us make our brewing dreams a reality. And here's to more in 2020!