2022 was our first full year in our new home at The Braniff Centre, and a year of more firsts for On Rotation.
Despite having been at this for almost 8 years now, we had not, to date, entered any professional brewing competitions until this year. We sent beers off to be judged in the Texas Craft Brewers Cup this past year and were ever so excited to take home a silver medal for Jalapeño Saison.
As the only medal-winning chili beer, we get to claim the title of BEST CHILI BEER IN TEXAS for Jalapeño Saison! And you better believe we will.
We were also humbled by your support in The Dallas Morning News' Best in DFW People's Choice Awards. On Rotation received 12 medals this year, and we were recognized as the Best Outdoor Dining experience, Best Restaurant View, and Best Kid-Friendly Restaurant once again.
But enough about accomplishments. Let's talk about the beer.
We said after looking back on 2021 that we wanted to dig deeper into our idea bank to brew a larger variety of styles this year…and dig we did.
We released 31 new beers in 2021.
2022 By the Numbers
Let's take a closer look at our new releases in 2022.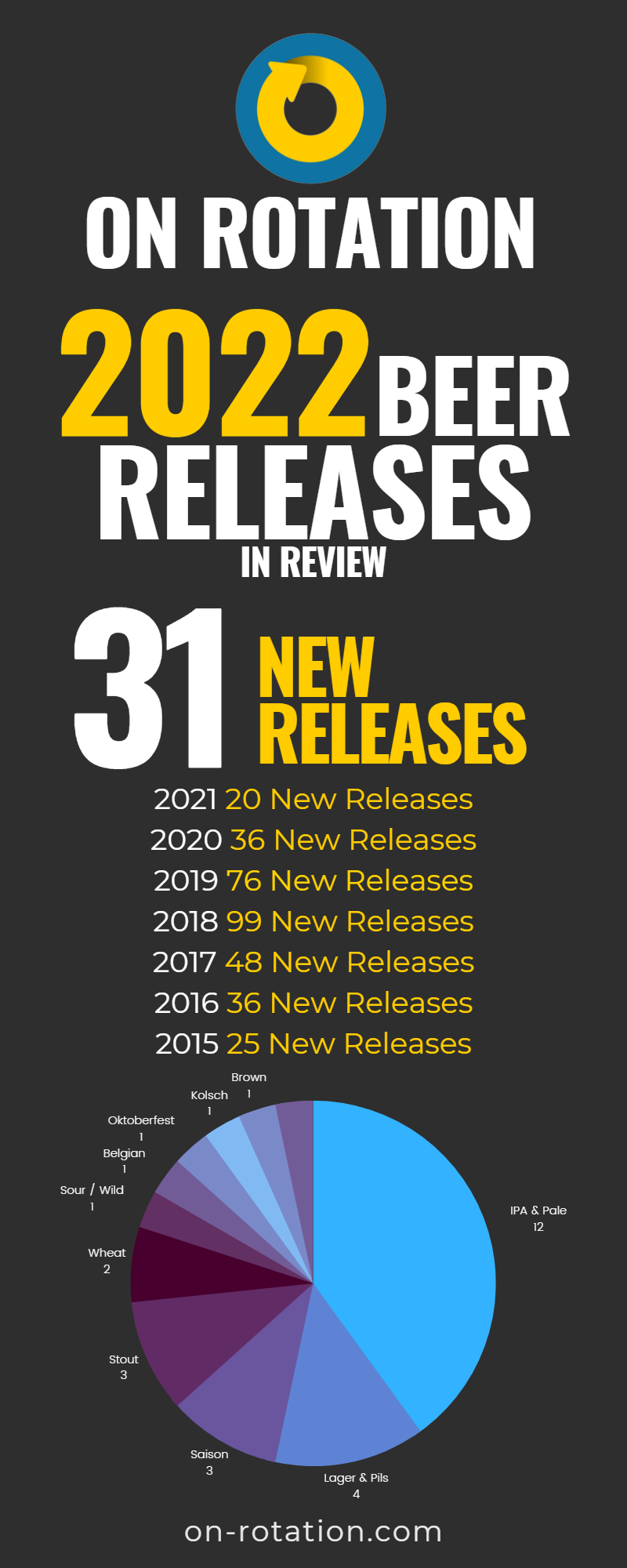 Our most brewed new release style in 2022 was IPA & Pale Ale. Most of those were hazy IPAs, but we took this year to explore many new yeast strains with our IPAs, including several variants engineered to produce thiols.
We collaborated with more breweries in 2022 than we have in our entire existence to date and had a blast brewing alongside our friends at Vector Brewing, Cowtown Brewing, Trinity Forest, ODD Muse, Smittox Brewing, Lockwood Distilling, and Billy Law.
Beyond IPAs, we crossed several styles off our "to do" list, including a brown ale, a kolsch, several versions of wheats, and a Bière de Garde.
Our standout new releases that we'll remember from this year were our Pecan Bourbon Brown, our Thai Tea Golden Ale, SQUAWK Hazy IPA, and A 20-Year Collaboration Helles Bock.
While 31 new releases in 2022 is lower than our numbers in 2018 and 2019, we're proud of each and every one we produced this year. We've found that canning our signature brews to have 4-packs available and keeping up with the volume of those recurring beers even with our expanded fermentation capacity makes it more challenging to squeeze brand new beers into the brew schedule, but we're working on a few ways to further increase our capacity in 2023.
And our 31 new releases in 2022 bring On Rotation's total new release count to 371 unique brews.
Thank You
We couldn't do this for as long as we have now without your support so we have to thank you all for enjoying every drop of what we're crafting.
We thank you for buying our 4-packs, frequenting our taproom, eating all the fried chicken, and enjoying pour after pour with us in the brewpub.
There's much to be excited about in 2023, and we're glad to have you along for the ride.