sat09apr12:00 PMFeaturedOn Rotation's 7-Year Anniversary PartyAnniversary Party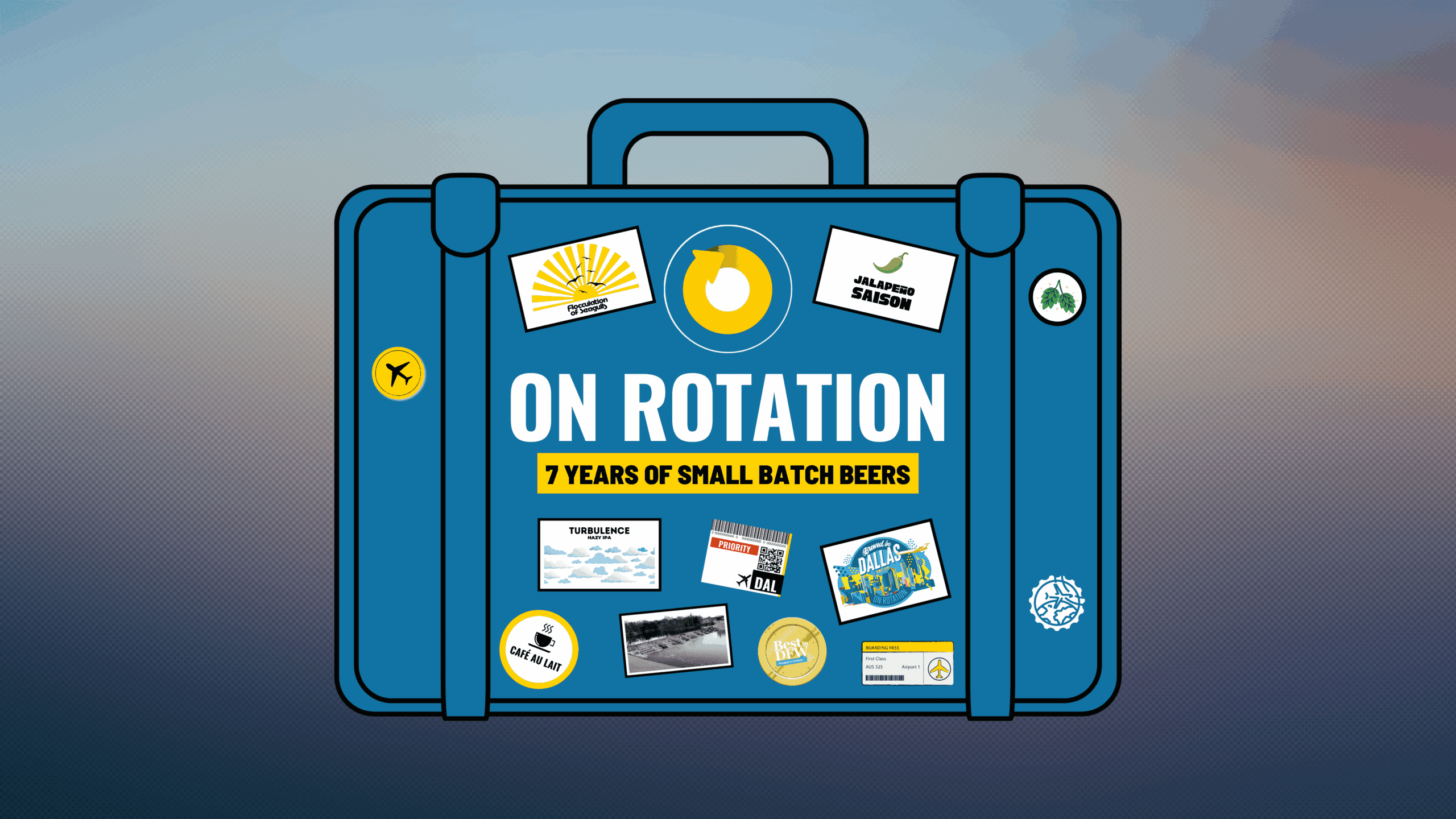 Event Details

On Rotation is turning 7. That feels funny to say, but it's true nonetheless. It's time to celebrate our 7 years of small batch beers – and almost one full year of delicious fried chicken. Now that we think about it, we never truly had a grand opening at the Braniff Centre. So let's make this one helluva party to make up for all this lost time, shall we?!?

There is NO TICKET for this event. All beer & food may be purchased individually.

Just bring your beautiful self and come party with us as we unpack 7 years of fun out of this suitcase.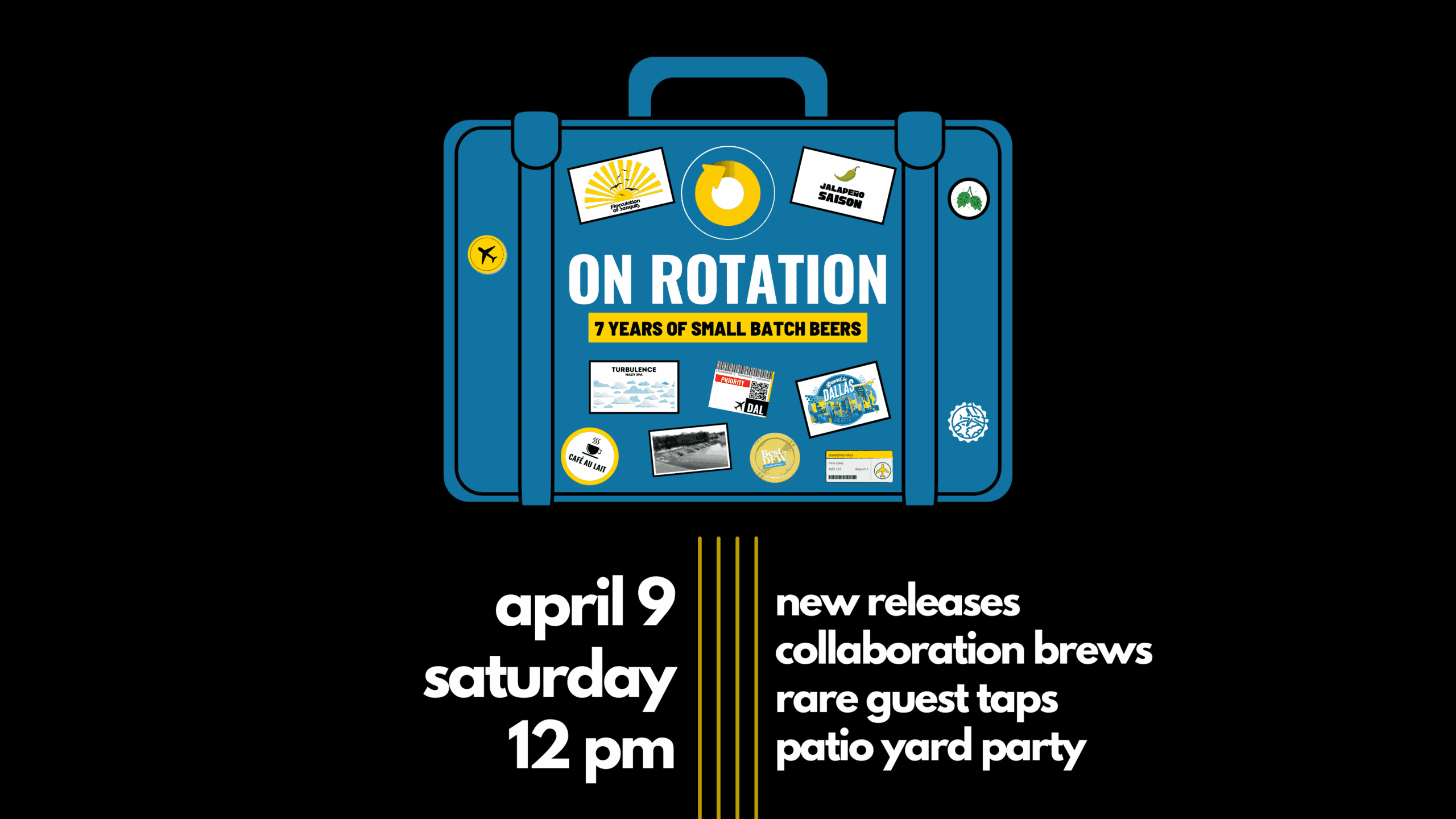 15 BEERS (STARTS AT 12 PM)
We expect to have 15 amazing On Rotation beers on tap, including 2 entirely brand new releases making their debut at the party. We'll have some of our recent collaborations with our fellow DFW breweries – Cowtown Brewing, Vector Brewing, and Celestial Beerworks – as well.
In addition to our fun brews, we'll also be fancying up the guest taps with some kegs we'd been saving for just such an occasion.
And our select wine list, cider, and non-alcoholic beverages will be available for our friends who haven't yet embraced the beer game.
Please note that we will be serving all drinks in disposable glassware for the day.
OUTDOOR LAWN PARTY (1 PM – 6 PM)
Our large front patio will be dressed in its Saturday best, but we'll also be taking over a little more of our front parking for a full-fledged LAWN PARTY! We've got a ton of great outdoor games – some you've played previously and some that might be new to you.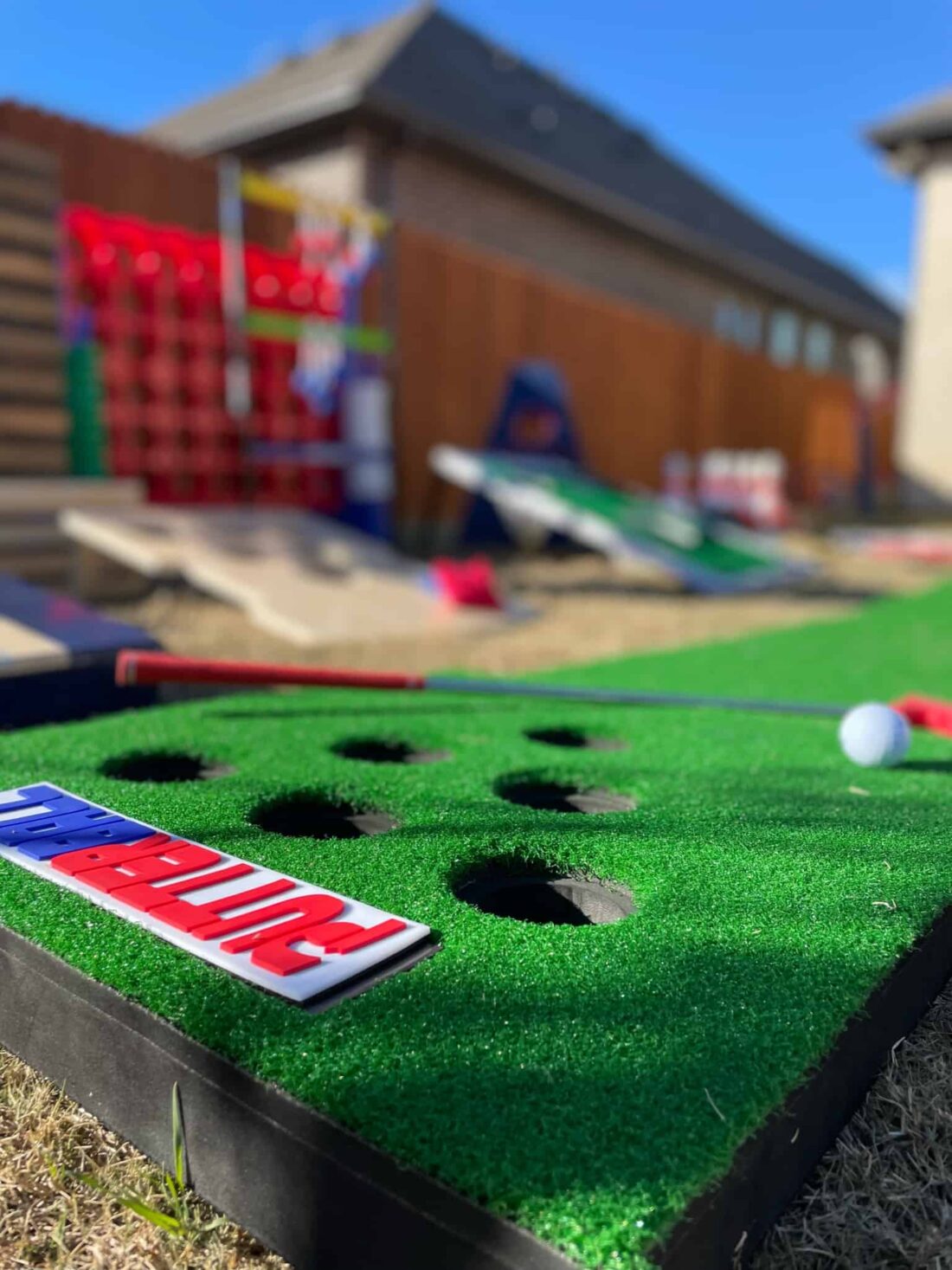 Our taproom doors will open at 11 AM. The beers & party kicks off at 12 PM. The yard games will be on-site from 1 PM to 6 PM, but we will still be partying until we shut down for the evening at 12 AM.
LIVE T-SHIRT PRINTING
PINT Services will be on-site spinning those live screen print t-shirts with some spiffy new anniversary designs. Snag 'em while you can.
Food & Kiddos & PETS
Please note that our menu will be limited on Saturday due to the expected volume of orders. We'll also scale back taking orders at tables and set up several ordering stations to help manage food and bar service throughout the festivities.
Children are welcome to attend, but please, please keep an eye on them as we do expect a crowd and will not be able to provide as much of a play area as we normally might on the patio.
Dogs and other furry friends are also welcome on the patio. As a reminder, please keep them close at hand and leashed.
Parking
Out of respect to our neighbors, please try to park closer to the airport ramp if possible (north of our doors) in front of the Tradition Senior Living offices or Venture X offices. Calloway's Nursery will be open and operating throughout our shindig so we don't want to cramp their style.
Who's ready to party?
Time

saturday, april 9, 12:00 PM