tue09aug7:00 PMPub Trivia TuesdayTest your knowledge for a chance to win prizes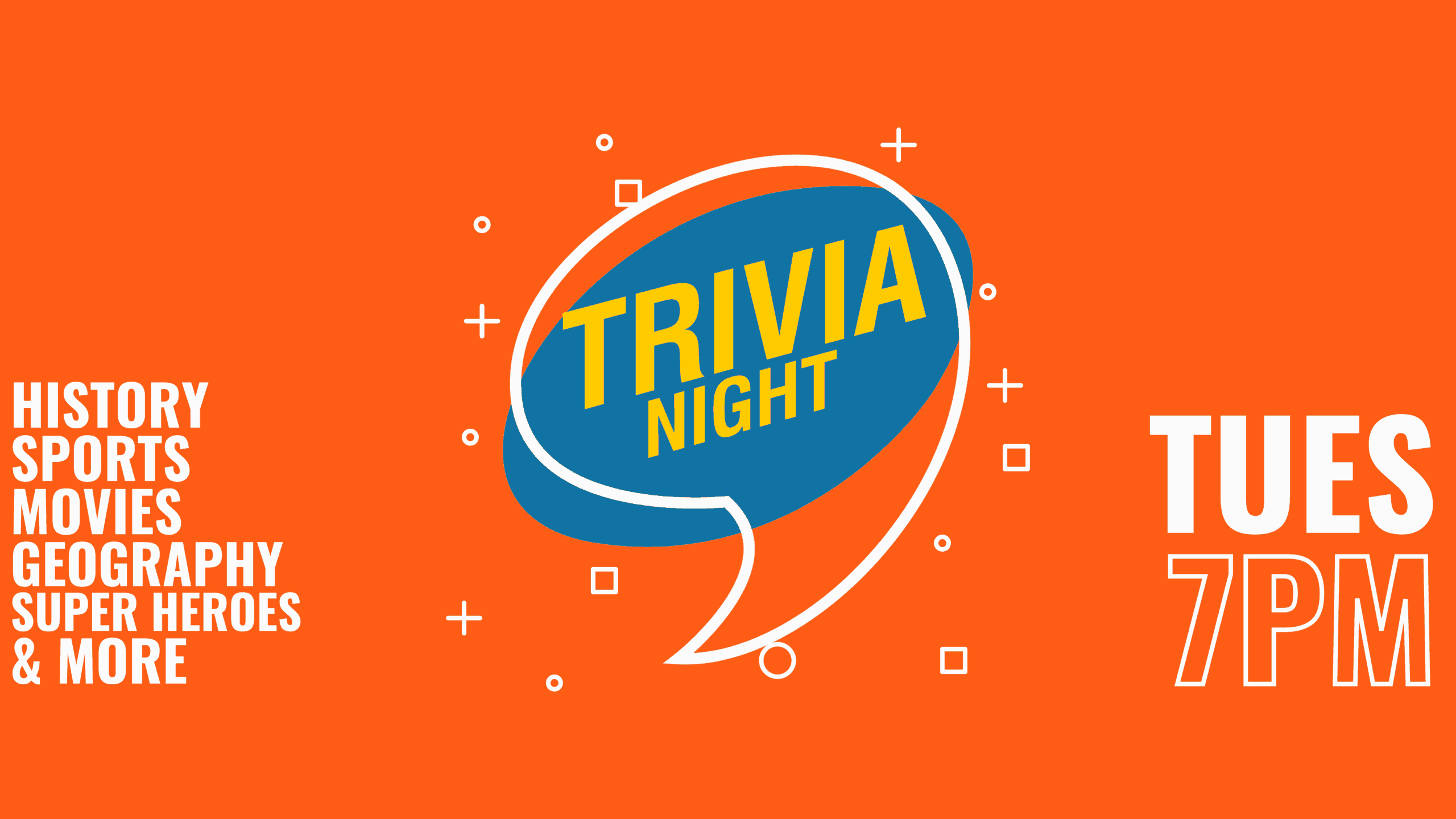 Event Details

We host pub trivia every Tuesday at 7 PM. This is where all that binge-watching and random useless knowledge pays off.

Recruit your team and come to play each week for a chance to win On Rotation gift cards, merch, wacky prizes, and more.

Trivia is absolutely FREE to play. The full game is seven rounds, including a matching round and a picture round. There is no limit to how many players you may have on your team, but there may be penalties that come into play for teams of more than six people.

Unless there is one specific theme for the trivia for the evening, we will offer a range of questions across several areas of expertise like sports, pop culture, history, geography, superheroes, and more. No expertise shall be wasted! We typically have at least one themed round that changes each week.

Follow On Rotation's social media posts for hints or clues about the theme for that week.

Our taproom offers a full menu centered around our gluten-free fried chicken and 40 ever-rotating taps of beer, cider, and seltzer. And, if you haven't found the beer of your dreams just yet, we also have a select, curated wine list!
Time

tuesday, august 9, 7:00 PM
Future Event Times in this Repeating Event Series
august 16, 2022 7:00 PMaugust 23, 2022 7:00 PMaugust 30, 2022 7:00 PMseptember 6, 2022 7:00 PMseptember 13, 2022 7:00 PMseptember 20, 2022 7:00 PMseptember 27, 2022 7:00 PMoctober 4, 2022 7:00 PMoctober 11, 2022 7:00 PMoctober 18, 2022 7:00 PMoctober 25, 2022 7:00 PMnovember 1, 2022 7:00 PMnovember 8, 2022 7:00 PMnovember 15, 2022 7:00 PMnovember 22, 2022 7:00 PMnovember 29, 2022 7:00 PMdecember 6, 2022 7:00 PMdecember 13, 2022 7:00 PMdecember 20, 2022 7:00 PMdecember 27, 2022 7:00 PMjanuary 3, 2023 7:00 PMjanuary 10, 2023 7:00 PMjanuary 17, 2023 7:00 PMjanuary 24, 2023 7:00 PMjanuary 31, 2023 7:00 PMfebruary 7, 2023 7:00 PMfebruary 14, 2023 7:00 PMfebruary 21, 2023 7:00 PMfebruary 28, 2023 7:00 PMmarch 7, 2023 7:00 PMmarch 14, 2023 7:00 PMmarch 21, 2023 7:00 PMmarch 28, 2023 7:00 PMapril 4, 2023 7:00 PMapril 11, 2023 7:00 PMapril 18, 2023 7:00 PMapril 25, 2023 7:00 PMmay 2, 2023 7:00 PMmay 9, 2023 7:00 PMmay 16, 2023 7:00 PMmay 23, 2023 7:00 PMmay 30, 2023 7:00 PMjune 6, 2023 7:00 PMjune 13, 2023 7:00 PMjune 20, 2023 7:00 PMjune 27, 2023 7:00 PMjuly 4, 2023 7:00 PMjuly 11, 2023 7:00 PMjuly 18, 2023 7:00 PMjuly 25, 2023 7:00 PMaugust 1, 2023 7:00 PMaugust 8, 2023 7:00 PMaugust 15, 2023 7:00 PMaugust 22, 2023 7:00 PMaugust 29, 2023 7:00 PMseptember 5, 2023 7:00 PMseptember 12, 2023 7:00 PMseptember 19, 2023 7:00 PMseptember 26, 2023 7:00 PMoctober 3, 2023 7:00 PMoctober 10, 2023 7:00 PMoctober 17, 2023 7:00 PMoctober 24, 2023 7:00 PMoctober 31, 2023 7:00 PMnovember 7, 2023 7:00 PMnovember 14, 2023 7:00 PMnovember 21, 2023 7:00 PMnovember 28, 2023 7:00 PMdecember 5, 2023 7:00 PMdecember 12, 2023 7:00 PMdecember 19, 2023 7:00 PMdecember 26, 2023 7:00 PMjanuary 2, 2024 7:00 PMjanuary 9, 2024 7:00 PMjanuary 16, 2024 7:00 PMjanuary 23, 2024 7:00 PMjanuary 30, 2024 7:00 PMfebruary 6, 2024 7:00 PMfebruary 13, 2024 7:00 PMfebruary 20, 2024 7:00 PMfebruary 27, 2024 7:00 PMmarch 5, 2024 7:00 PMmarch 12, 2024 7:00 PMmarch 19, 2024 7:00 PMmarch 26, 2024 7:00 PMapril 2, 2024 7:00 PMapril 9, 2024 7:00 PMapril 16, 2024 7:00 PMapril 23, 2024 7:00 PMapril 30, 2024 7:00 PMmay 7, 2024 7:00 PMmay 14, 2024 7:00 PMmay 21, 2024 7:00 PMmay 28, 2024 7:00 PMjune 4, 2024 7:00 PMjune 11, 2024 7:00 PMjune 18, 2024 7:00 PMjune 25, 2024 7:00 PMjuly 2, 2024 7:00 PMjuly 9, 2024 7:00 PM