wed10aug4:00 PMCLEAN SLATE WednesdayFeatured taps 50% off in-house & 30% off to go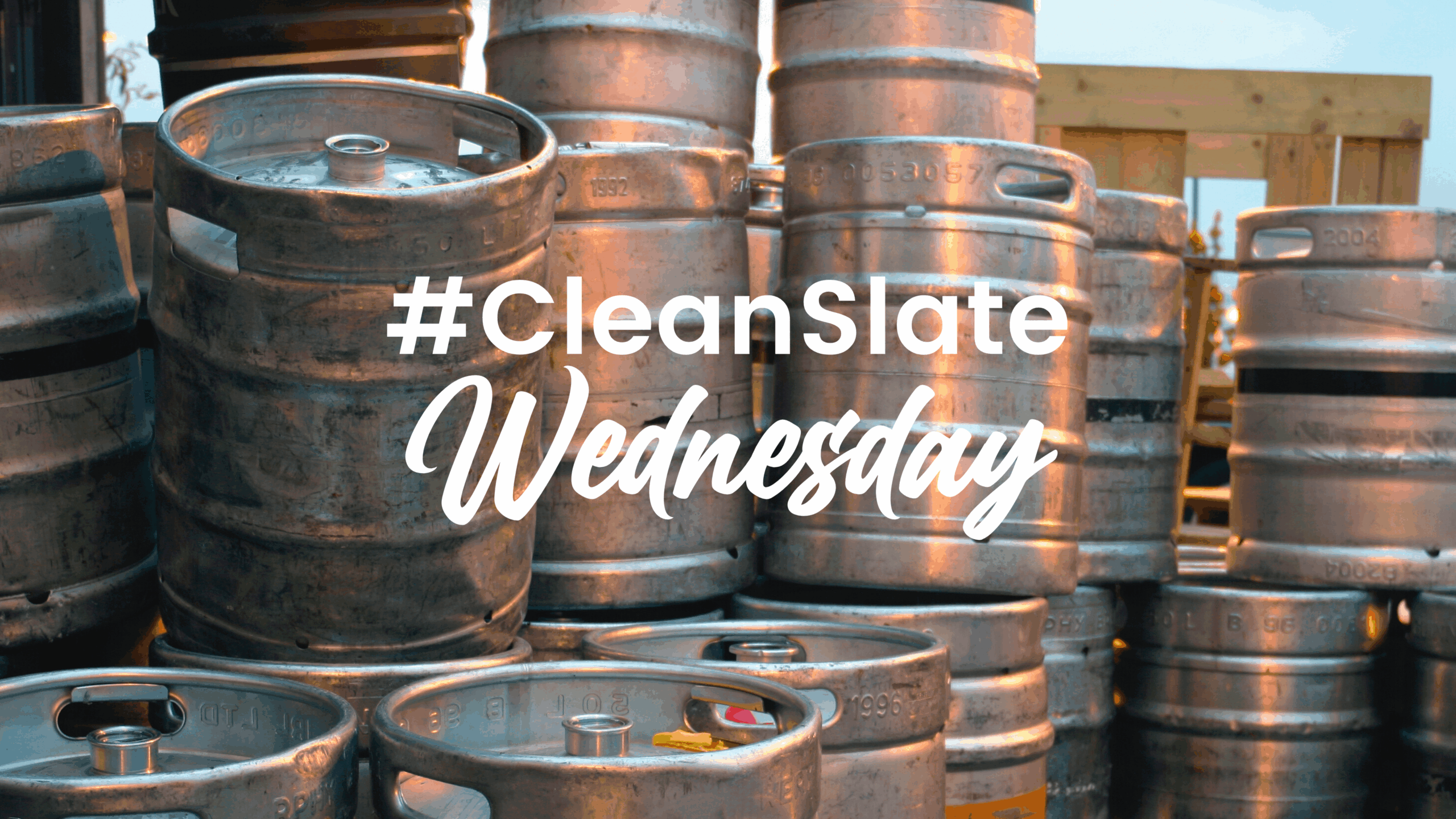 Event Details

CLEAN SLATE Wednesdays are our way of making sure the last drops of each tap are cherished as much as the first.

Each week, we run an inventory to see which craft beers, ciders, or seltzers we have on tap are ever so close to running out. We feature those taps every Wednesday evening with discounted pints, growler fills, and crowlers so we can say farewell to those taps and welcome a new slate to the board in their place on Thursday.

Featured CLEAN SLATE taps are discounted 30% on crowler fills and growler fills and are discounted 50% on pints and half pints.

CLEAN SLATE featured taps are announced around 4 PM if not before each Wednesday. You'll find them at the top of our tap list when they are live.
Time

wednesday, august 10, 4:00 PM
Future Event Times in this Repeating Event Series
august 17, 2022 4:00 PMaugust 24, 2022 4:00 PMaugust 31, 2022 4:00 PMseptember 7, 2022 4:00 PMseptember 14, 2022 4:00 PMseptember 21, 2022 4:00 PMseptember 28, 2022 4:00 PMoctober 5, 2022 4:00 PMoctober 12, 2022 4:00 PMoctober 19, 2022 4:00 PMoctober 26, 2022 4:00 PMnovember 2, 2022 4:00 PMnovember 9, 2022 4:00 PMnovember 16, 2022 4:00 PMnovember 23, 2022 4:00 PMnovember 30, 2022 4:00 PMdecember 7, 2022 4:00 PMdecember 14, 2022 4:00 PMdecember 21, 2022 4:00 PMdecember 28, 2022 4:00 PMjanuary 4, 2023 4:00 PMjanuary 11, 2023 4:00 PMjanuary 18, 2023 4:00 PMjanuary 25, 2023 4:00 PMfebruary 1, 2023 4:00 PMfebruary 8, 2023 4:00 PMfebruary 15, 2023 4:00 PMfebruary 22, 2023 4:00 PMmarch 1, 2023 4:00 PMmarch 8, 2023 4:00 PMmarch 15, 2023 4:00 PMmarch 22, 2023 4:00 PMmarch 29, 2023 4:00 PMapril 5, 2023 4:00 PMapril 12, 2023 4:00 PMapril 19, 2023 4:00 PMapril 26, 2023 4:00 PMmay 3, 2023 4:00 PMmay 10, 2023 4:00 PMmay 17, 2023 4:00 PMmay 24, 2023 4:00 PMmay 31, 2023 4:00 PMjune 7, 2023 4:00 PMjune 14, 2023 4:00 PMjune 21, 2023 4:00 PMjune 28, 2023 4:00 PMjuly 5, 2023 4:00 PMjuly 12, 2023 4:00 PMjuly 19, 2023 4:00 PMjuly 26, 2023 4:00 PMaugust 2, 2023 4:00 PMaugust 9, 2023 4:00 PMaugust 16, 2023 4:00 PMaugust 23, 2023 4:00 PMaugust 30, 2023 4:00 PMseptember 6, 2023 4:00 PMseptember 13, 2023 4:00 PMseptember 20, 2023 4:00 PMseptember 27, 2023 4:00 PMoctober 4, 2023 4:00 PMoctober 11, 2023 4:00 PMoctober 18, 2023 4:00 PMoctober 25, 2023 4:00 PMnovember 1, 2023 4:00 PMnovember 8, 2023 4:00 PMnovember 15, 2023 4:00 PMnovember 22, 2023 4:00 PMnovember 29, 2023 4:00 PMdecember 6, 2023 4:00 PMdecember 13, 2023 4:00 PMdecember 20, 2023 4:00 PMdecember 27, 2023 4:00 PMjanuary 3, 2024 4:00 PMjanuary 10, 2024 4:00 PMjanuary 17, 2024 4:00 PMjanuary 24, 2024 4:00 PMjanuary 31, 2024 4:00 PMfebruary 7, 2024 4:00 PMfebruary 14, 2024 4:00 PMfebruary 21, 2024 4:00 PMfebruary 28, 2024 4:00 PMmarch 6, 2024 4:00 PMmarch 13, 2024 4:00 PMmarch 20, 2024 4:00 PMmarch 27, 2024 4:00 PMapril 3, 2024 4:00 PMapril 10, 2024 4:00 PMapril 17, 2024 4:00 PMapril 24, 2024 4:00 PMmay 1, 2024 4:00 PMmay 8, 2024 4:00 PMmay 15, 2024 4:00 PMmay 22, 2024 4:00 PMmay 29, 2024 4:00 PMjune 5, 2024 4:00 PMjune 12, 2024 4:00 PMjune 19, 2024 4:00 PMjune 26, 2024 4:00 PMjuly 3, 2024 4:00 PM