sat30jul11:00 AMsat2:00 PMBrewery BrunchWeekend Brunch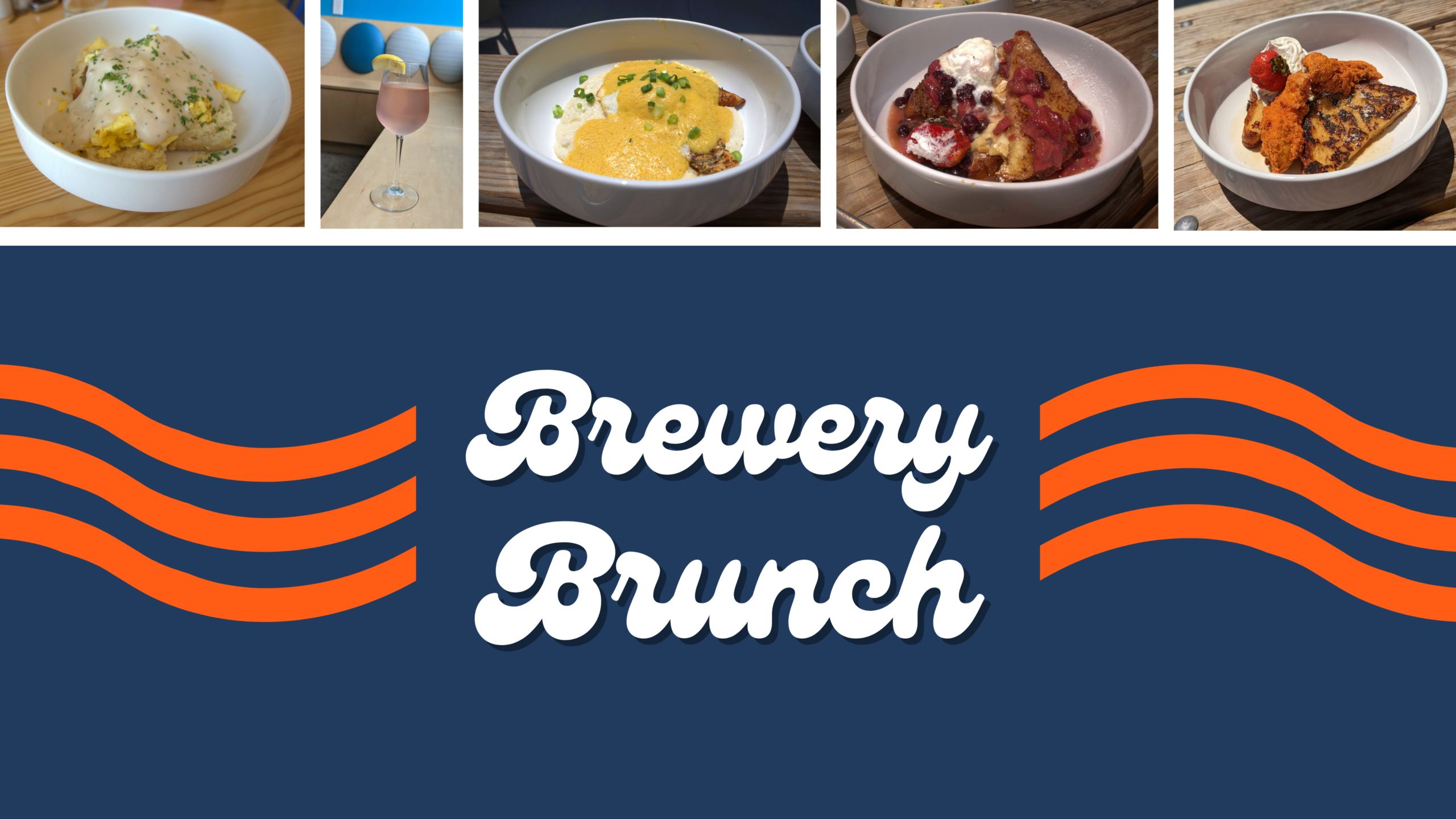 Event Details

Let's brunch! Brewery Brunch is served each Saturday & Sunday at On Rotation from 11 AM to 2 PM.

Our delicious brunch menu is available during these hours on top of our tasty regular menu, featuring gluten-friendly fried chicken.

Get your Gravy Baby, your Stuffed French Toast, your Cajun Sunrise, or your Chicken & French Toast, and let's make this weekend count.

Our Mimosas & Pink Lemonade Mimosas are available by the carafe in addition to being available by the glass, most especially during our brunch hours. And, as always, our 40 taps of awesome craft beer & cider, our select wine list, and our hard seltzer cocktails are available as well.
Time

saturday, july 30, 11:00 AM - saturday, july 30, 2:00 PM
Future Event Times in this Repeating Event Series
august 21, 2022 11:00 AM - august 21, 2022 2:00 PMaugust 20, 2022 11:00 AM - august 20, 2022 2:00 PMaugust 28, 2022 11:00 AM - august 28, 2022 2:00 PMaugust 27, 2022 11:00 AM - august 27, 2022 2:00 PMseptember 4, 2022 11:00 AM - september 4, 2022 2:00 PMseptember 3, 2022 11:00 AM - september 3, 2022 2:00 PMseptember 11, 2022 11:00 AM - september 11, 2022 2:00 PMseptember 10, 2022 11:00 AM - september 10, 2022 2:00 PMseptember 18, 2022 11:00 AM - september 18, 2022 2:00 PMseptember 17, 2022 11:00 AM - september 17, 2022 2:00 PMseptember 25, 2022 11:00 AM - september 25, 2022 2:00 PMseptember 24, 2022 11:00 AM - september 24, 2022 2:00 PMoctober 2, 2022 11:00 AM - october 2, 2022 2:00 PMoctober 1, 2022 11:00 AM - october 1, 2022 2:00 PMoctober 9, 2022 11:00 AM - october 9, 2022 2:00 PMoctober 8, 2022 11:00 AM - october 8, 2022 2:00 PMoctober 16, 2022 11:00 AM - october 16, 2022 2:00 PMoctober 15, 2022 11:00 AM - october 15, 2022 2:00 PMoctober 23, 2022 11:00 AM - october 23, 2022 2:00 PMoctober 22, 2022 11:00 AM - october 22, 2022 2:00 PMoctober 30, 2022 11:00 AM - october 30, 2022 2:00 PMoctober 29, 2022 11:00 AM - october 29, 2022 2:00 PMnovember 6, 2022 11:00 AM - november 6, 2022 2:00 PMnovember 5, 2022 11:00 AM - november 5, 2022 2:00 PMnovember 13, 2022 11:00 AM - november 13, 2022 2:00 PMnovember 12, 2022 11:00 AM - november 12, 2022 2:00 PMnovember 20, 2022 11:00 AM - november 20, 2022 2:00 PMnovember 19, 2022 11:00 AM - november 19, 2022 2:00 PMnovember 27, 2022 11:00 AM - november 27, 2022 2:00 PMnovember 26, 2022 11:00 AM - november 26, 2022 2:00 PMdecember 4, 2022 11:00 AM - december 4, 2022 2:00 PMdecember 3, 2022 11:00 AM - december 3, 2022 2:00 PMdecember 11, 2022 11:00 AM - december 11, 2022 2:00 PMdecember 10, 2022 11:00 AM - december 10, 2022 2:00 PMdecember 18, 2022 11:00 AM - december 18, 2022 2:00 PMdecember 17, 2022 11:00 AM - december 17, 2022 2:00 PMdecember 25, 2022 11:00 AM - december 25, 2022 2:00 PMdecember 24, 2022 11:00 AM - december 24, 2022 2:00 PMjanuary 1, 2023 11:00 AM - january 1, 2023 2:00 PMdecember 31, 2022 11:00 AM - december 31, 2022 2:00 PMjanuary 8, 2023 11:00 AM - january 8, 2023 2:00 PMjanuary 7, 2023 11:00 AM - january 7, 2023 2:00 PMjanuary 15, 2023 11:00 AM - january 15, 2023 2:00 PMjanuary 14, 2023 11:00 AM - january 14, 2023 2:00 PMjanuary 22, 2023 11:00 AM - january 22, 2023 2:00 PMjanuary 21, 2023 11:00 AM - january 21, 2023 2:00 PMjanuary 29, 2023 11:00 AM - january 29, 2023 2:00 PMjanuary 28, 2023 11:00 AM - january 28, 2023 2:00 PMfebruary 5, 2023 11:00 AM - february 5, 2023 2:00 PMfebruary 4, 2023 11:00 AM - february 4, 2023 2:00 PMfebruary 12, 2023 11:00 AM - february 12, 2023 2:00 PMfebruary 11, 2023 11:00 AM - february 11, 2023 2:00 PMfebruary 19, 2023 11:00 AM - february 19, 2023 2:00 PMfebruary 18, 2023 11:00 AM - february 18, 2023 2:00 PMfebruary 26, 2023 11:00 AM - february 26, 2023 2:00 PMfebruary 25, 2023 11:00 AM - february 25, 2023 2:00 PMmarch 5, 2023 11:00 AM - march 5, 2023 2:00 PMmarch 4, 2023 11:00 AM - march 4, 2023 2:00 PMmarch 12, 2023 11:00 AM - march 12, 2023 2:00 PMmarch 11, 2023 11:00 AM - march 11, 2023 2:00 PMmarch 19, 2023 11:00 AM - march 19, 2023 2:00 PMmarch 18, 2023 11:00 AM - march 18, 2023 2:00 PMmarch 26, 2023 11:00 AM - march 26, 2023 2:00 PMmarch 25, 2023 11:00 AM - march 25, 2023 2:00 PMapril 2, 2023 11:00 AM - april 2, 2023 2:00 PMapril 1, 2023 11:00 AM - april 1, 2023 2:00 PMapril 9, 2023 11:00 AM - april 9, 2023 2:00 PMapril 8, 2023 11:00 AM - april 8, 2023 2:00 PMapril 16, 2023 11:00 AM - april 16, 2023 2:00 PMapril 15, 2023 11:00 AM - april 15, 2023 2:00 PMapril 23, 2023 11:00 AM - april 23, 2023 2:00 PMapril 22, 2023 11:00 AM - april 22, 2023 2:00 PMapril 30, 2023 11:00 AM - april 30, 2023 2:00 PMapril 29, 2023 11:00 AM - april 29, 2023 2:00 PMmay 7, 2023 11:00 AM - may 7, 2023 2:00 PMmay 6, 2023 11:00 AM - may 6, 2023 2:00 PMmay 14, 2023 11:00 AM - may 14, 2023 2:00 PMmay 13, 2023 11:00 AM - may 13, 2023 2:00 PMmay 21, 2023 11:00 AM - may 21, 2023 2:00 PMmay 20, 2023 11:00 AM - may 20, 2023 2:00 PMmay 28, 2023 11:00 AM - may 28, 2023 2:00 PMmay 27, 2023 11:00 AM - may 27, 2023 2:00 PMjune 4, 2023 11:00 AM - june 4, 2023 2:00 PMjune 3, 2023 11:00 AM - june 3, 2023 2:00 PMjune 11, 2023 11:00 AM - june 11, 2023 2:00 PMjune 10, 2023 11:00 AM - june 10, 2023 2:00 PMjune 18, 2023 11:00 AM - june 18, 2023 2:00 PMjune 17, 2023 11:00 AM - june 17, 2023 2:00 PMjune 25, 2023 11:00 AM - june 25, 2023 2:00 PMjune 24, 2023 11:00 AM - june 24, 2023 2:00 PMjuly 2, 2023 11:00 AM - july 2, 2023 2:00 PMjuly 1, 2023 11:00 AM - july 1, 2023 2:00 PMjuly 9, 2023 11:00 AM - july 9, 2023 2:00 PMjuly 8, 2023 11:00 AM - july 8, 2023 2:00 PMjuly 16, 2023 11:00 AM - july 16, 2023 2:00 PMjuly 15, 2023 11:00 AM - july 15, 2023 2:00 PMjuly 23, 2023 11:00 AM - july 23, 2023 2:00 PMjuly 22, 2023 11:00 AM - july 22, 2023 2:00 PMjuly 30, 2023 11:00 AM - july 30, 2023 2:00 PMjuly 29, 2023 11:00 AM - july 29, 2023 2:00 PMaugust 6, 2023 11:00 AM - august 6, 2023 2:00 PMaugust 5, 2023 11:00 AM - august 5, 2023 2:00 PMaugust 13, 2023 11:00 AM - august 13, 2023 2:00 PMaugust 12, 2023 11:00 AM - august 12, 2023 2:00 PMaugust 20, 2023 11:00 AM - august 20, 2023 2:00 PMaugust 19, 2023 11:00 AM - august 19, 2023 2:00 PMaugust 27, 2023 11:00 AM - august 27, 2023 2:00 PMaugust 26, 2023 11:00 AM - august 26, 2023 2:00 PMseptember 3, 2023 11:00 AM - september 3, 2023 2:00 PMseptember 2, 2023 11:00 AM - september 2, 2023 2:00 PMseptember 10, 2023 11:00 AM - september 10, 2023 2:00 PMseptember 9, 2023 11:00 AM - september 9, 2023 2:00 PMseptember 17, 2023 11:00 AM - september 17, 2023 2:00 PMseptember 16, 2023 11:00 AM - september 16, 2023 2:00 PMseptember 24, 2023 11:00 AM - september 24, 2023 2:00 PMseptember 23, 2023 11:00 AM - september 23, 2023 2:00 PMoctober 1, 2023 11:00 AM - october 1, 2023 2:00 PMseptember 30, 2023 11:00 AM - september 30, 2023 2:00 PMoctober 8, 2023 11:00 AM - october 8, 2023 2:00 PMoctober 7, 2023 11:00 AM - october 7, 2023 2:00 PMoctober 15, 2023 11:00 AM - october 15, 2023 2:00 PMoctober 14, 2023 11:00 AM - october 14, 2023 2:00 PMoctober 22, 2023 11:00 AM - october 22, 2023 2:00 PMoctober 21, 2023 11:00 AM - october 21, 2023 2:00 PMoctober 29, 2023 11:00 AM - october 29, 2023 2:00 PMoctober 28, 2023 11:00 AM - october 28, 2023 2:00 PMnovember 5, 2023 11:00 AM - november 5, 2023 2:00 PMnovember 4, 2023 11:00 AM - november 4, 2023 2:00 PMnovember 12, 2023 11:00 AM - november 12, 2023 2:00 PMnovember 11, 2023 11:00 AM - november 11, 2023 2:00 PMnovember 19, 2023 11:00 AM - november 19, 2023 2:00 PMnovember 18, 2023 11:00 AM - november 18, 2023 2:00 PMnovember 26, 2023 11:00 AM - november 26, 2023 2:00 PMnovember 25, 2023 11:00 AM - november 25, 2023 2:00 PMdecember 3, 2023 11:00 AM - december 3, 2023 2:00 PMdecember 2, 2023 11:00 AM - december 2, 2023 2:00 PMdecember 10, 2023 11:00 AM - december 10, 2023 2:00 PMdecember 9, 2023 11:00 AM - december 9, 2023 2:00 PMdecember 17, 2023 11:00 AM - december 17, 2023 2:00 PMdecember 16, 2023 11:00 AM - december 16, 2023 2:00 PMdecember 24, 2023 11:00 AM - december 24, 2023 2:00 PMdecember 23, 2023 11:00 AM - december 23, 2023 2:00 PMdecember 31, 2023 11:00 AM - december 31, 2023 2:00 PMdecember 30, 2023 11:00 AM - december 30, 2023 2:00 PMjanuary 7, 2024 11:00 AM - january 7, 2024 2:00 PMjanuary 6, 2024 11:00 AM - january 6, 2024 2:00 PMjanuary 14, 2024 11:00 AM - january 14, 2024 2:00 PMjanuary 13, 2024 11:00 AM - january 13, 2024 2:00 PMjanuary 21, 2024 11:00 AM - january 21, 2024 2:00 PMjanuary 20, 2024 11:00 AM - january 20, 2024 2:00 PMjanuary 28, 2024 11:00 AM - january 28, 2024 2:00 PMjanuary 27, 2024 11:00 AM - january 27, 2024 2:00 PMfebruary 4, 2024 11:00 AM - february 4, 2024 2:00 PMfebruary 3, 2024 11:00 AM - february 3, 2024 2:00 PMfebruary 11, 2024 11:00 AM - february 11, 2024 2:00 PMfebruary 10, 2024 11:00 AM - february 10, 2024 2:00 PMfebruary 18, 2024 11:00 AM - february 18, 2024 2:00 PMfebruary 17, 2024 11:00 AM - february 17, 2024 2:00 PMfebruary 25, 2024 11:00 AM - february 25, 2024 2:00 PMfebruary 24, 2024 11:00 AM - february 24, 2024 2:00 PMmarch 3, 2024 11:00 AM - march 3, 2024 2:00 PMmarch 2, 2024 11:00 AM - march 2, 2024 2:00 PMmarch 10, 2024 11:00 AM - march 10, 2024 2:00 PMmarch 9, 2024 11:00 AM - march 9, 2024 2:00 PMmarch 17, 2024 11:00 AM - march 17, 2024 2:00 PMmarch 16, 2024 11:00 AM - march 16, 2024 2:00 PMmarch 24, 2024 11:00 AM - march 24, 2024 2:00 PMmarch 23, 2024 11:00 AM - march 23, 2024 2:00 PMmarch 31, 2024 11:00 AM - march 31, 2024 2:00 PMmarch 30, 2024 11:00 AM - march 30, 2024 2:00 PMapril 7, 2024 11:00 AM - april 7, 2024 2:00 PMapril 6, 2024 11:00 AM - april 6, 2024 2:00 PMapril 14, 2024 11:00 AM - april 14, 2024 2:00 PMapril 13, 2024 11:00 AM - april 13, 2024 2:00 PMapril 21, 2024 11:00 AM - april 21, 2024 2:00 PMapril 20, 2024 11:00 AM - april 20, 2024 2:00 PMapril 28, 2024 11:00 AM - april 28, 2024 2:00 PMapril 27, 2024 11:00 AM - april 27, 2024 2:00 PMmay 5, 2024 11:00 AM - may 5, 2024 2:00 PMmay 4, 2024 11:00 AM - may 4, 2024 2:00 PMmay 12, 2024 11:00 AM - may 12, 2024 2:00 PMmay 11, 2024 11:00 AM - may 11, 2024 2:00 PMmay 19, 2024 11:00 AM - may 19, 2024 2:00 PMmay 18, 2024 11:00 AM - may 18, 2024 2:00 PMmay 26, 2024 11:00 AM - may 26, 2024 2:00 PMmay 25, 2024 11:00 AM - may 25, 2024 2:00 PMjune 2, 2024 11:00 AM - june 2, 2024 2:00 PMjune 1, 2024 11:00 AM - june 1, 2024 2:00 PMjune 9, 2024 11:00 AM - june 9, 2024 2:00 PMjune 8, 2024 11:00 AM - june 8, 2024 2:00 PMjune 16, 2024 11:00 AM - june 16, 2024 2:00 PMjune 15, 2024 11:00 AM - june 15, 2024 2:00 PMjune 23, 2024 11:00 AM - june 23, 2024 2:00 PMjune 22, 2024 11:00 AM - june 22, 2024 2:00 PMjune 30, 2024 11:00 AM - june 30, 2024 2:00 PMjune 29, 2024 11:00 AM - june 29, 2024 2:00 PMjuly 7, 2024 11:00 AM - july 7, 2024 2:00 PMjuly 6, 2024 11:00 AM - july 6, 2024 2:00 PMjuly 14, 2024 11:00 AM - july 14, 2024 2:00 PMjuly 13, 2024 11:00 AM - july 13, 2024 2:00 PMjuly 21, 2024 11:00 AM - july 21, 2024 2:00 PMjuly 20, 2024 11:00 AM - july 20, 2024 2:00 PMjuly 28, 2024 11:00 AM - july 28, 2024 2:00 PMjuly 27, 2024 11:00 AM - july 27, 2024 2:00 PMaugust 4, 2024 11:00 AM - august 4, 2024 2:00 PMaugust 3, 2024 11:00 AM - august 3, 2024 2:00 PMaugust 11, 2024 11:00 AM - august 11, 2024 2:00 PMaugust 10, 2024 11:00 AM - august 10, 2024 2:00 PMaugust 18, 2024 11:00 AM - august 18, 2024 2:00 PMaugust 17, 2024 11:00 AM - august 17, 2024 2:00 PMaugust 25, 2024 11:00 AM - august 25, 2024 2:00 PMaugust 24, 2024 11:00 AM - august 24, 2024 2:00 PM