fri26aug(aug 26)8:00 PMsat27(aug 27)12:00 AMLate Night & Reverse Happy HourLate Night Eats & Drink Specials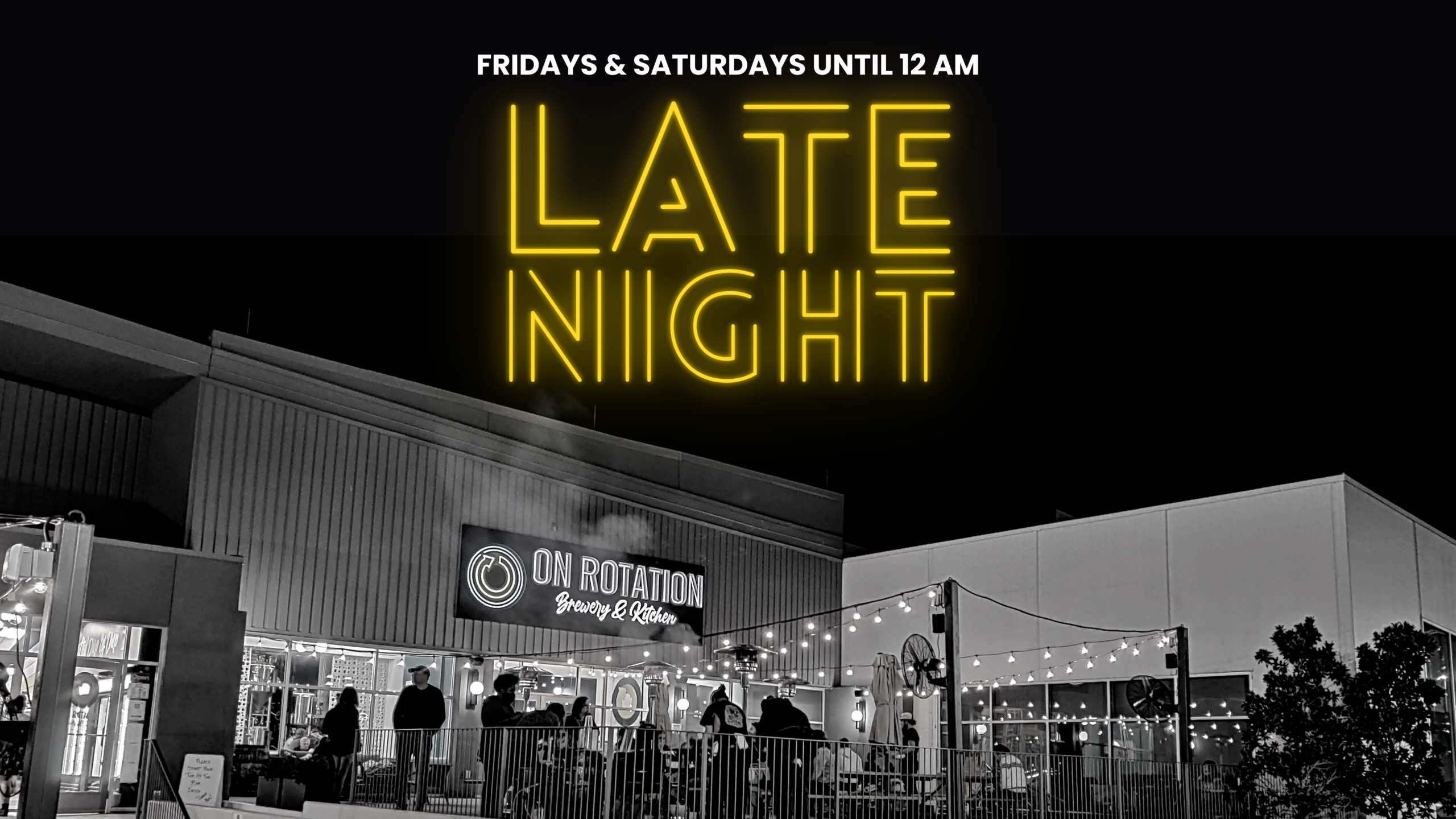 Event Details

Late Nights are here! The party really begins when the sun goes down every Friday & Saturday night at On Rotation.
Reverse Happy Hour
Our Reverse Happy Hour kicks off at 8 PM each Friday & Saturday evening. Craft beer, cider, wine, and hard seltzer cocktails are $1 off during Reverse Happy Hour, which runs from 8 PM until we close at 12 AM.
Late Night Menu
The kitchen shuts down our full menu at 9 PM, but, from 9 PM to 11 PM on Friday & Saturday nights, we have Late Night Eats to make sure no one goes home hungry. Our late night menu is available until 11 PM.
Time

friday, august 26, 8:00 PM - saturday, august 27, 12:00 AM
Future Event Times in this Repeating Event Series
august 27, 2022 8:00 PM - august 28, 2022 12:00 AMseptember 2, 2022 8:00 PM - september 3, 2022 12:00 AMseptember 3, 2022 8:00 PM - september 4, 2022 12:00 AMseptember 9, 2022 8:00 PM - september 10, 2022 12:00 AMseptember 10, 2022 8:00 PM - september 11, 2022 12:00 AMseptember 16, 2022 8:00 PM - september 17, 2022 12:00 AMseptember 17, 2022 8:00 PM - september 18, 2022 12:00 AMseptember 23, 2022 8:00 PM - september 24, 2022 12:00 AMseptember 24, 2022 8:00 PM - september 25, 2022 12:00 AMseptember 30, 2022 8:00 PM - october 1, 2022 12:00 AMoctober 1, 2022 8:00 PM - october 2, 2022 12:00 AMoctober 7, 2022 8:00 PM - october 8, 2022 12:00 AMoctober 8, 2022 8:00 PM - october 9, 2022 12:00 AMoctober 14, 2022 8:00 PM - october 15, 2022 12:00 AMoctober 15, 2022 8:00 PM - october 16, 2022 12:00 AMoctober 21, 2022 8:00 PM - october 22, 2022 12:00 AMoctober 22, 2022 8:00 PM - october 23, 2022 12:00 AMoctober 28, 2022 8:00 PM - october 29, 2022 12:00 AMoctober 29, 2022 8:00 PM - october 30, 2022 12:00 AMnovember 4, 2022 8:00 PM - november 5, 2022 12:00 AMnovember 5, 2022 8:00 PM - november 6, 2022 12:00 AMnovember 11, 2022 8:00 PM - november 12, 2022 12:00 AMnovember 12, 2022 8:00 PM - november 13, 2022 12:00 AMnovember 18, 2022 8:00 PM - november 19, 2022 12:00 AMnovember 19, 2022 8:00 PM - november 20, 2022 12:00 AMnovember 25, 2022 8:00 PM - november 26, 2022 12:00 AMnovember 26, 2022 8:00 PM - november 27, 2022 12:00 AMdecember 2, 2022 8:00 PM - december 3, 2022 12:00 AMdecember 3, 2022 8:00 PM - december 4, 2022 12:00 AMdecember 9, 2022 8:00 PM - december 10, 2022 12:00 AMdecember 10, 2022 8:00 PM - december 11, 2022 12:00 AMdecember 16, 2022 8:00 PM - december 17, 2022 12:00 AMdecember 17, 2022 8:00 PM - december 18, 2022 12:00 AMdecember 23, 2022 8:00 PM - december 24, 2022 12:00 AMdecember 24, 2022 8:00 PM - december 25, 2022 12:00 AMdecember 30, 2022 8:00 PM - december 31, 2022 12:00 AMdecember 31, 2022 8:00 PM - january 1, 2023 12:00 AMjanuary 6, 2023 8:00 PM - january 7, 2023 12:00 AMjanuary 7, 2023 8:00 PM - january 8, 2023 12:00 AMjanuary 13, 2023 8:00 PM - january 14, 2023 12:00 AMjanuary 14, 2023 8:00 PM - january 15, 2023 12:00 AMjanuary 20, 2023 8:00 PM - january 21, 2023 12:00 AMjanuary 21, 2023 8:00 PM - january 22, 2023 12:00 AMjanuary 27, 2023 8:00 PM - january 28, 2023 12:00 AMjanuary 28, 2023 8:00 PM - january 29, 2023 12:00 AMfebruary 3, 2023 8:00 PM - february 4, 2023 12:00 AMfebruary 4, 2023 8:00 PM - february 5, 2023 12:00 AMfebruary 10, 2023 8:00 PM - february 11, 2023 12:00 AMfebruary 11, 2023 8:00 PM - february 12, 2023 12:00 AMfebruary 17, 2023 8:00 PM - february 18, 2023 12:00 AMfebruary 18, 2023 8:00 PM - february 19, 2023 12:00 AMfebruary 24, 2023 8:00 PM - february 25, 2023 12:00 AMfebruary 25, 2023 8:00 PM - february 26, 2023 12:00 AMmarch 3, 2023 8:00 PM - march 4, 2023 12:00 AMmarch 4, 2023 8:00 PM - march 5, 2023 12:00 AMmarch 10, 2023 8:00 PM - march 11, 2023 12:00 AMmarch 11, 2023 8:00 PM - march 12, 2023 12:00 AMmarch 17, 2023 8:00 PM - march 18, 2023 12:00 AMmarch 18, 2023 8:00 PM - march 19, 2023 12:00 AMmarch 24, 2023 8:00 PM - march 25, 2023 12:00 AMmarch 25, 2023 8:00 PM - march 26, 2023 12:00 AMmarch 31, 2023 8:00 PM - april 1, 2023 12:00 AMapril 1, 2023 8:00 PM - april 2, 2023 12:00 AMapril 7, 2023 8:00 PM - april 8, 2023 12:00 AMapril 8, 2023 8:00 PM - april 9, 2023 12:00 AMapril 14, 2023 8:00 PM - april 15, 2023 12:00 AMapril 15, 2023 8:00 PM - april 16, 2023 12:00 AMapril 21, 2023 8:00 PM - april 22, 2023 12:00 AMapril 22, 2023 8:00 PM - april 23, 2023 12:00 AMapril 28, 2023 8:00 PM - april 29, 2023 12:00 AMapril 29, 2023 8:00 PM - april 30, 2023 12:00 AMmay 5, 2023 8:00 PM - may 6, 2023 12:00 AMmay 6, 2023 8:00 PM - may 7, 2023 12:00 AMmay 12, 2023 8:00 PM - may 13, 2023 12:00 AMmay 13, 2023 8:00 PM - may 14, 2023 12:00 AMmay 19, 2023 8:00 PM - may 20, 2023 12:00 AMmay 20, 2023 8:00 PM - may 21, 2023 12:00 AMmay 26, 2023 8:00 PM - may 27, 2023 12:00 AMmay 27, 2023 8:00 PM - may 28, 2023 12:00 AMjune 2, 2023 8:00 PM - june 3, 2023 12:00 AMjune 3, 2023 8:00 PM - june 4, 2023 12:00 AMjune 9, 2023 8:00 PM - june 10, 2023 12:00 AMjune 10, 2023 8:00 PM - june 11, 2023 12:00 AMjune 16, 2023 8:00 PM - june 17, 2023 12:00 AMjune 17, 2023 8:00 PM - june 18, 2023 12:00 AMjune 23, 2023 8:00 PM - june 24, 2023 12:00 AMjune 24, 2023 8:00 PM - june 25, 2023 12:00 AMjune 30, 2023 8:00 PM - july 1, 2023 12:00 AMjuly 1, 2023 8:00 PM - july 2, 2023 12:00 AMjuly 7, 2023 8:00 PM - july 8, 2023 12:00 AMjuly 8, 2023 8:00 PM - july 9, 2023 12:00 AMjuly 14, 2023 8:00 PM - july 15, 2023 12:00 AMjuly 15, 2023 8:00 PM - july 16, 2023 12:00 AMjuly 21, 2023 8:00 PM - july 22, 2023 12:00 AMjuly 22, 2023 8:00 PM - july 23, 2023 12:00 AMjuly 28, 2023 8:00 PM - july 29, 2023 12:00 AMjuly 29, 2023 8:00 PM - july 30, 2023 12:00 AMaugust 4, 2023 8:00 PM - august 5, 2023 12:00 AMaugust 5, 2023 8:00 PM - august 6, 2023 12:00 AMaugust 11, 2023 8:00 PM - august 12, 2023 12:00 AMaugust 12, 2023 8:00 PM - august 13, 2023 12:00 AMaugust 18, 2023 8:00 PM - august 19, 2023 12:00 AMaugust 19, 2023 8:00 PM - august 20, 2023 12:00 AMaugust 25, 2023 8:00 PM - august 26, 2023 12:00 AMaugust 26, 2023 8:00 PM - august 27, 2023 12:00 AMseptember 1, 2023 8:00 PM - september 2, 2023 12:00 AMseptember 2, 2023 8:00 PM - september 3, 2023 12:00 AMseptember 8, 2023 8:00 PM - september 9, 2023 12:00 AMseptember 9, 2023 8:00 PM - september 10, 2023 12:00 AMseptember 15, 2023 8:00 PM - september 16, 2023 12:00 AMseptember 16, 2023 8:00 PM - september 17, 2023 12:00 AMseptember 22, 2023 8:00 PM - september 23, 2023 12:00 AMseptember 23, 2023 8:00 PM - september 24, 2023 12:00 AMseptember 29, 2023 8:00 PM - september 30, 2023 12:00 AMseptember 30, 2023 8:00 PM - october 1, 2023 12:00 AMoctober 6, 2023 8:00 PM - october 7, 2023 12:00 AMoctober 7, 2023 8:00 PM - october 8, 2023 12:00 AMoctober 13, 2023 8:00 PM - october 14, 2023 12:00 AMoctober 14, 2023 8:00 PM - october 15, 2023 12:00 AMoctober 20, 2023 8:00 PM - october 21, 2023 12:00 AMoctober 21, 2023 8:00 PM - october 22, 2023 12:00 AMoctober 27, 2023 8:00 PM - october 28, 2023 12:00 AMoctober 28, 2023 8:00 PM - october 29, 2023 12:00 AMnovember 3, 2023 8:00 PM - november 4, 2023 12:00 AMnovember 4, 2023 8:00 PM - november 5, 2023 12:00 AMnovember 10, 2023 8:00 PM - november 11, 2023 12:00 AMnovember 11, 2023 8:00 PM - november 12, 2023 12:00 AMnovember 17, 2023 8:00 PM - november 18, 2023 12:00 AMnovember 18, 2023 8:00 PM - november 19, 2023 12:00 AMnovember 24, 2023 8:00 PM - november 25, 2023 12:00 AMnovember 25, 2023 8:00 PM - november 26, 2023 12:00 AMdecember 1, 2023 8:00 PM - december 2, 2023 12:00 AMdecember 2, 2023 8:00 PM - december 3, 2023 12:00 AMdecember 8, 2023 8:00 PM - december 9, 2023 12:00 AMdecember 9, 2023 8:00 PM - december 10, 2023 12:00 AMdecember 15, 2023 8:00 PM - december 16, 2023 12:00 AMdecember 16, 2023 8:00 PM - december 17, 2023 12:00 AMdecember 22, 2023 8:00 PM - december 23, 2023 12:00 AMdecember 23, 2023 8:00 PM - december 24, 2023 12:00 AMdecember 29, 2023 8:00 PM - december 30, 2023 12:00 AMdecember 30, 2023 8:00 PM - december 31, 2023 12:00 AMjanuary 5, 2024 8:00 PM - january 6, 2024 12:00 AMjanuary 6, 2024 8:00 PM - january 7, 2024 12:00 AMjanuary 12, 2024 8:00 PM - january 13, 2024 12:00 AMjanuary 13, 2024 8:00 PM - january 14, 2024 12:00 AMjanuary 19, 2024 8:00 PM - january 20, 2024 12:00 AMjanuary 20, 2024 8:00 PM - january 21, 2024 12:00 AMjanuary 26, 2024 8:00 PM - january 27, 2024 12:00 AMjanuary 27, 2024 8:00 PM - january 28, 2024 12:00 AMfebruary 2, 2024 8:00 PM - february 3, 2024 12:00 AMfebruary 3, 2024 8:00 PM - february 4, 2024 12:00 AMfebruary 9, 2024 8:00 PM - february 10, 2024 12:00 AMfebruary 10, 2024 8:00 PM - february 11, 2024 12:00 AMfebruary 16, 2024 8:00 PM - february 17, 2024 12:00 AMfebruary 17, 2024 8:00 PM - february 18, 2024 12:00 AMfebruary 23, 2024 8:00 PM - february 24, 2024 12:00 AMfebruary 24, 2024 8:00 PM - february 25, 2024 12:00 AMmarch 1, 2024 8:00 PM - march 2, 2024 12:00 AMmarch 2, 2024 8:00 PM - march 3, 2024 12:00 AMmarch 8, 2024 8:00 PM - march 9, 2024 12:00 AMmarch 9, 2024 8:00 PM - march 10, 2024 12:00 AMmarch 15, 2024 8:00 PM - march 16, 2024 12:00 AMmarch 16, 2024 8:00 PM - march 17, 2024 12:00 AMmarch 22, 2024 8:00 PM - march 23, 2024 12:00 AMmarch 23, 2024 8:00 PM - march 24, 2024 12:00 AMmarch 29, 2024 8:00 PM - march 30, 2024 12:00 AMmarch 30, 2024 8:00 PM - march 31, 2024 12:00 AMapril 5, 2024 8:00 PM - april 6, 2024 12:00 AMapril 6, 2024 8:00 PM - april 7, 2024 12:00 AMapril 12, 2024 8:00 PM - april 13, 2024 12:00 AMapril 13, 2024 8:00 PM - april 14, 2024 12:00 AMapril 19, 2024 8:00 PM - april 20, 2024 12:00 AMapril 20, 2024 8:00 PM - april 21, 2024 12:00 AMapril 26, 2024 8:00 PM - april 27, 2024 12:00 AMapril 27, 2024 8:00 PM - april 28, 2024 12:00 AMmay 3, 2024 8:00 PM - may 4, 2024 12:00 AMmay 4, 2024 8:00 PM - may 5, 2024 12:00 AMmay 10, 2024 8:00 PM - may 11, 2024 12:00 AMmay 11, 2024 8:00 PM - may 12, 2024 12:00 AMmay 17, 2024 8:00 PM - may 18, 2024 12:00 AMmay 18, 2024 8:00 PM - may 19, 2024 12:00 AMmay 24, 2024 8:00 PM - may 25, 2024 12:00 AMmay 25, 2024 8:00 PM - may 26, 2024 12:00 AMmay 31, 2024 8:00 PM - june 1, 2024 12:00 AMjune 1, 2024 8:00 PM - june 2, 2024 12:00 AMjune 7, 2024 8:00 PM - june 8, 2024 12:00 AMjune 8, 2024 8:00 PM - june 9, 2024 12:00 AMjune 14, 2024 8:00 PM - june 15, 2024 12:00 AMjune 15, 2024 8:00 PM - june 16, 2024 12:00 AMjune 21, 2024 8:00 PM - june 22, 2024 12:00 AMjune 22, 2024 8:00 PM - june 23, 2024 12:00 AMjune 28, 2024 8:00 PM - june 29, 2024 12:00 AMjune 29, 2024 8:00 PM - june 30, 2024 12:00 AMjuly 5, 2024 8:00 PM - july 6, 2024 12:00 AMjuly 6, 2024 8:00 PM - july 7, 2024 12:00 AMjuly 12, 2024 8:00 PM - july 13, 2024 12:00 AMjuly 13, 2024 8:00 PM - july 14, 2024 12:00 AMjuly 19, 2024 8:00 PM - july 20, 2024 12:00 AMjuly 20, 2024 8:00 PM - july 21, 2024 12:00 AMjuly 26, 2024 8:00 PM - july 27, 2024 12:00 AMjuly 27, 2024 8:00 PM - july 28, 2024 12:00 AMaugust 2, 2024 8:00 PM - august 3, 2024 12:00 AMaugust 3, 2024 8:00 PM - august 4, 2024 12:00 AMaugust 9, 2024 8:00 PM - august 10, 2024 12:00 AMaugust 10, 2024 8:00 PM - august 11, 2024 12:00 AMaugust 16, 2024 8:00 PM - august 17, 2024 12:00 AMaugust 17, 2024 8:00 PM - august 18, 2024 12:00 AMaugust 23, 2024 8:00 PM - august 24, 2024 12:00 AMaugust 24, 2024 8:00 PM - august 25, 2024 12:00 AMaugust 30, 2024 8:00 PM - august 31, 2024 12:00 AMaugust 31, 2024 8:00 PM - september 1, 2024 12:00 AMseptember 6, 2024 8:00 PM - september 7, 2024 12:00 AMseptember 7, 2024 8:00 PM - september 8, 2024 12:00 AMseptember 13, 2024 8:00 PM - september 14, 2024 12:00 AMseptember 14, 2024 8:00 PM - september 15, 2024 12:00 AMseptember 20, 2024 8:00 PM - september 21, 2024 12:00 AMseptember 21, 2024 8:00 PM - september 22, 2024 12:00 AMseptember 27, 2024 8:00 PM - september 28, 2024 12:00 AMseptember 28, 2024 8:00 PM - september 29, 2024 12:00 AMoctober 4, 2024 8:00 PM - october 5, 2024 12:00 AMoctober 5, 2024 8:00 PM - october 6, 2024 12:00 AMoctober 11, 2024 8:00 PM - october 12, 2024 12:00 AMoctober 12, 2024 8:00 PM - october 13, 2024 12:00 AMoctober 18, 2024 8:00 PM - october 19, 2024 12:00 AMoctober 19, 2024 8:00 PM - october 20, 2024 12:00 AMoctober 25, 2024 8:00 PM - october 26, 2024 12:00 AMoctober 26, 2024 8:00 PM - october 27, 2024 12:00 AMnovember 1, 2024 8:00 PM - november 2, 2024 12:00 AMnovember 2, 2024 8:00 PM - november 3, 2024 12:00 AMnovember 8, 2024 8:00 PM - november 9, 2024 12:00 AMnovember 9, 2024 8:00 PM - november 10, 2024 12:00 AMnovember 15, 2024 8:00 PM - november 16, 2024 12:00 AMnovember 16, 2024 8:00 PM - november 17, 2024 12:00 AMnovember 22, 2024 8:00 PM - november 23, 2024 12:00 AMnovember 23, 2024 8:00 PM - november 24, 2024 12:00 AMnovember 29, 2024 8:00 PM - november 30, 2024 12:00 AMnovember 30, 2024 8:00 PM - december 1, 2024 12:00 AMdecember 6, 2024 8:00 PM - december 7, 2024 12:00 AMdecember 7, 2024 8:00 PM - december 8, 2024 12:00 AMdecember 13, 2024 8:00 PM - december 14, 2024 12:00 AMdecember 14, 2024 8:00 PM - december 15, 2024 12:00 AMdecember 20, 2024 8:00 PM - december 21, 2024 12:00 AMdecember 21, 2024 8:00 PM - december 22, 2024 12:00 AMdecember 27, 2024 8:00 PM - december 28, 2024 12:00 AMdecember 28, 2024 8:00 PM - december 29, 2024 12:00 AMjanuary 3, 2025 8:00 PM - january 4, 2025 12:00 AMjanuary 4, 2025 8:00 PM - january 5, 2025 12:00 AMjanuary 10, 2025 8:00 PM - january 11, 2025 12:00 AMjanuary 11, 2025 8:00 PM - january 12, 2025 12:00 AMjanuary 17, 2025 8:00 PM - january 18, 2025 12:00 AMjanuary 18, 2025 8:00 PM - january 19, 2025 12:00 AMjanuary 24, 2025 8:00 PM - january 25, 2025 12:00 AMjanuary 25, 2025 8:00 PM - january 26, 2025 12:00 AMjanuary 31, 2025 8:00 PM - february 1, 2025 12:00 AMfebruary 1, 2025 8:00 PM - february 2, 2025 12:00 AMfebruary 7, 2025 8:00 PM - february 8, 2025 12:00 AMfebruary 8, 2025 8:00 PM - february 9, 2025 12:00 AMfebruary 14, 2025 8:00 PM - february 15, 2025 12:00 AMfebruary 15, 2025 8:00 PM - february 16, 2025 12:00 AMfebruary 21, 2025 8:00 PM - february 22, 2025 12:00 AMfebruary 22, 2025 8:00 PM - february 23, 2025 12:00 AMfebruary 28, 2025 8:00 PM - march 1, 2025 12:00 AMmarch 1, 2025 8:00 PM - march 2, 2025 12:00 AMmarch 7, 2025 8:00 PM - march 8, 2025 12:00 AMmarch 8, 2025 8:00 PM - march 9, 2025 12:00 AMmarch 14, 2025 8:00 PM - march 15, 2025 12:00 AMmarch 15, 2025 8:00 PM - march 16, 2025 12:00 AMmarch 21, 2025 8:00 PM - march 22, 2025 12:00 AMmarch 22, 2025 8:00 PM - march 23, 2025 12:00 AMmarch 28, 2025 8:00 PM - march 29, 2025 12:00 AMmarch 29, 2025 8:00 PM - march 30, 2025 12:00 AMapril 4, 2025 8:00 PM - april 5, 2025 12:00 AMapril 5, 2025 8:00 PM - april 6, 2025 12:00 AMapril 11, 2025 8:00 PM - april 12, 2025 12:00 AMapril 12, 2025 8:00 PM - april 13, 2025 12:00 AMapril 18, 2025 8:00 PM - april 19, 2025 12:00 AMapril 19, 2025 8:00 PM - april 20, 2025 12:00 AMapril 25, 2025 8:00 PM - april 26, 2025 12:00 AMapril 26, 2025 8:00 PM - april 27, 2025 12:00 AMmay 2, 2025 8:00 PM - may 3, 2025 12:00 AMmay 3, 2025 8:00 PM - may 4, 2025 12:00 AMmay 9, 2025 8:00 PM - may 10, 2025 12:00 AMmay 10, 2025 8:00 PM - may 11, 2025 12:00 AMmay 16, 2025 8:00 PM - may 17, 2025 12:00 AMmay 17, 2025 8:00 PM - may 18, 2025 12:00 AMmay 23, 2025 8:00 PM - may 24, 2025 12:00 AMmay 24, 2025 8:00 PM - may 25, 2025 12:00 AMmay 30, 2025 8:00 PM - may 31, 2025 12:00 AMmay 31, 2025 8:00 PM - june 1, 2025 12:00 AMjune 6, 2025 8:00 PM - june 7, 2025 12:00 AMjune 7, 2025 8:00 PM - june 8, 2025 12:00 AMjune 13, 2025 8:00 PM - june 14, 2025 12:00 AMjune 14, 2025 8:00 PM - june 15, 2025 12:00 AMjune 20, 2025 8:00 PM - june 21, 2025 12:00 AMjune 21, 2025 8:00 PM - june 22, 2025 12:00 AM